Security for the Long Run
By Susan Buchanan
Firms Building Sought-After Security Boats Have Multiyear Backlogs
U.S. companies continue to land lucrative contracts with domestic and foreign customers for vessels that are designed or specially customized to meet defense, police and anti-piracy needs. Governments here and abroad, meanwhile, continue to cut budgets. Many of the security craft to be delivered this year are built to save energy, reduce emissions and reach higher speeds and greater cruising ranges than their predecessors. They have the latest tracking and communications systems. And a few new vessels are remotely operated. Domestic companies building these sought-after security boats have work backlogs of two to five years.
MetalCraft Supplies Long Range Interceptors and Patrol Boats
"We will deliver five Long Range Interceptors to the U.S. Coast Guard this year and next, along with two interceptors to foreign navies and a number of other boats to foreign navies," Bob Clark, New York-based contracts manager with MetalCraft Marine Inc., said last month. "We'll also deliver two groups of our Patrol 36 to foreign customers, a group of Patrol 44s, and two or three of the Patrol 28s." The company's clients include governments in the Middle East, Africa and South America. MetalCraft Marine is based in Kingston, Ontario and Cape Vincent, N.Y.
In June 2012, MetalCraft Marine U.S. was awarded a $9.8 million contract for the design and production of up to ten new-generation Long Range Interceptor IIs--eight for the U.S. Coast Guard and two for other government agencies, including U.S. Customs and Border Protection and the U.S. Navy. These boats will be used for National Security Cutter operations, such as interdiction and intercepting illegal migrants, the USCG said.
The company's Patrol series are high-speed, small craft for navies, coast guards and police agencies. Built in partnership with Brunswick Commercial and Government Products in Edgewater, Fla., they're maneuverable, rugged and suited to search and rescue, monitoring and special operations.
"The biggest new technologies we've adopted are energy saving," Clark said. "We built a new 50-foot aluminum patrol boat for the Massachusetts Environmental Police, delivered on June 27, with a Volvo Penta Inboard Propulsion System. It allows 30 percent fuel savings and a 30 percent reduction in carbon emissions, compared with straight shaft props and rudders, according to Volvo Penta's numbers." The boat is the first commercial vessel in North America to be powered by IPS propulsion. "This IPS, which provides greater cruising range and higher speed, while reducing noise, is so amazing it can even make recreational boaters look like rock stars," Clark said.
All in all, Metal Craft Marine remains busy. As for back orders, "we have 5-year contracts for salvage boats with the U.S. Navy and 5-year contracts for LRIs with the USCG, along with a multi-year foreign fireboat contract," Clark said. The Navy contract is for eight U.S. Navy Superintendent of Salvage or Supsalv boats.
Tampa Yacht Builds Mission-Specific Craft
This year and next, Tampa Yacht Manufacturing LLC in Pinellas Park, Fla. will deliver ten 36' RHIB craft for special ops forces to a foreign navy; four 50' fast attack craft to a foreign government's border-security forces; and ten 44' Fast Coastal Interceptors to foreign coast guard forces, the company's CEO Bob Stevens said last month. The orders, impressive enough by themselves, also showcase the ability of U.S. yards – in certain niche areas – to compete in the export boatbuilding game.
"We're delivering 24 vessels in 2014 and 2015, and right now we have on the books another 19 vessels for delivery in 2016," Stevens said. "All craft are custom configured for mission-specific requirements, and all our sales are to foreign governments. But I'm not at liberty to identify them or the territories we're selling into." Tampa Yacht also remains busy into the foreseeable future. Stevens said the company's security vessels are on back order for two or more years.

Brunswick Delivers Patrol Vessels Worldwide
"This year alone, we plan to deliver security patrol vessels to Central and South America, as well as the Middle East, and to the northeastern United States and Gulf states," Jeremy Davis, sales director at Brunswick Commercial and Government Products in Edgewater, Fla., said last month. "One of our main business segments is maritime security. Brunswick for over fifty years has produced commercial-grade Boston Whaler fiberglass boats for law enforcement agencies in coastal regions worldwide."
Brunswick recently expanded its product line to include IMPACT rigid hull inflatable boats, along with Sentry aluminum vessels. "Our security and law enforcement boats are considered by customers to be a great value proposition," Davis said. "In the near future, we plan to deliver boats equipped with cutting-edge technology from FLIR Systems, Mercury Marine and SHOXS seats," he said. "Through our relationships with some of the industry's best innovators, we're able to offer fully customizable boats, equipped to handle the tough missions that maritime security professionals often endure." As of September, Brunswick had back orders for security vessels stretching well into 2017.

Swiftships: Patrol Boats and – a Security Service
"With growing threats in the Middle East region, several international clients have shown interest in our proven 25m to 65m Security Patrol Vessels or SPVs," Shehraze Shah, CEO of Swiftships Ship Builders, LLC in Morgan City, La., said last month. Swiftships plans to deliver its first fleet of 56-foot Security Patrol Vessels to the Malaysian and African coasts by December.
"We're building our own fleet of vessels with operators to provide turn-key solutions for a large gas exploration company," Shah said. "And, in addition to new-build opportunities, we just launched Swiftships Maritime Security or SMS as a service." SMS's roster of security professionals and expert crews use patrol vessels with the latest tracking and communications systems to provide piracy and robbery protection for commercial vessels and private yachts from ports to international shipping lanes. Under SMS, oil-and-gas and other companies pay day rates, Shah said. So far, Swiftships has one SMS customer for this year.
"If requested by a client, SMS can provide armed guards on vessels transiting danger zones in international waters," Shah said. Many SMS personnel have 'special forces' experience. Former naval officers and seamen operating SMS vessels know international ports and their operations.
As for new technologies, "Swiftships has been working with tier-3 engines to sustain longer missions by being fuel efficient and to keep carbon footprints down," Shah said. "In addition to our emission initiatives, our non-lethal mission, along with remote operated vessels or ROV, technology is being fully deployed under SMS."
Shah said University of Louisiana at Lafayette is one of Swiftships' technology partners. "They are, for example, involved in researching the trend of technology and how science will view a concept and come up with a prototype," he said. "In the end, Swiftships' sister company, ICS, builds the technology and takes it to market." ICS-Nett Inc. is based in Vienna, Va.
With its latest set of orders, Swiftships joins the growing number of small, U.S.-based boatyards that remain very busy. "We have back orders on six 45 meter Fast Missile Boats for Iraq and various 65m Offshore Patrol Vessels for Libya, which are under Letter of Request with the Navy International Program Office or NIPO, pending funding approval," Shah said.

Moose Boats Outfits Police Departments in Style
As of early September, Moose Boats, Inc. in Petaluma, Ca. had delivered four security vessels in 2014 to date, with individual vessel values ranging from $580,000 to $870,000, Mark Stott, the company's sales engineer said. Deliveries were as follows: one M2-35 walk-around cabin outboard powered catamaran for New York City's Police Department Harbor Unit; one M2-38 wide-cabin diesel, water-jet powered catamaran for the New Jersey State Police, delivered in Point Pleasant; one M2-38 wide-cabin diesel, water-jet powered catamaran for the United States Park Police in Fort Tilden, N.Y.; one M2-37 walk-around cabin diesel, water-jet powered catamaran for the Richmond Police Department in Richmond, Ca.
Beyond this, Moose also has on tap one M2-38 wide-cabin diesel water-jet powered catamaran for delivery to the New Jersey State Police in Newark; and two M2-35 outboard powered catamarans for the Port Authority of New York and New Jersey, to be delivered to JFK and Newark airports.
Always looking to upgrade its offerings, Moose recently enhanced its products by offering a 50 percent larger 10' wide by 12' long cabin in its M2 38 foot catamarans. "This large, center helm cabin offers the interior and seating options that had been available only on our larger M1 44 and 46 foot catamarans," Stott said. "The new wide-cabin M2-38 catamarans have a center helm seat, forward companion seats--port and starboard, a full galley, a four-person table, a command desk-workstation, and access to a cuddy cabin via a door to the forward hull area." Wide-cabin catamarans have been well received, says Stott, with three vessels currently in service and a fourth under construction, he said. Regarding backlogs, "we have four vessels under construction, pending contracts in process and several prospects awaiting approval of federal FY 2014 Port Security Grant Program funding," Stott said.

Replacement Hulls, the Environment, Fleets Upgrades & Mideast Tensions Drive Sales
Although belt tightening at federal, state and municipal levels continues in North America, aging patrol and police vessels are being replaced with more energy efficient and environmentally benign craft, vessel builders said. Overseas, the Middle East region, which had been relatively quiet, has reignited as a military hot spot, with coastlines that need constant surveillance and protection. All of that adds up to a red hot market for U.S. builders who have shown that they can deliver both quality and prices, in a timely fashion, to customers anywhere on the planet. That's a winning combination in any discipline and a welcome sea change that domestic shipbuilders – in any class or size of vessels – can try to emulate.


(As published in the October 2014 edition of Marine News - http://magazines.marinelink.com/Magazines/MaritimeNews)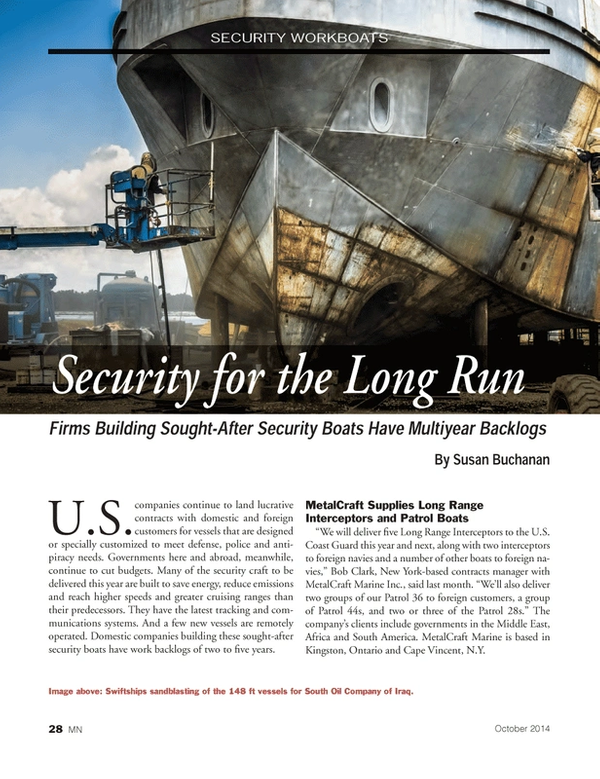 Read Security for the Long Run in Pdf, Flash or Html5 edition of October 2014 Marine News
Other stories from October 2014 issue
Content