Z-Drive Towboats
By Joseph Keefe
ZF Marine penetrates domestic inland waterway markets – enjoying good success with two U.S. majors. The prospects for an even brighter future hinge on the performance of its early entries. So far, so good.
It's no secret that the domestic, inland marine business can be conservative in its approach to adopt new technologies, but then, this can probably be said of the global waterfront, as well. But the market is changing, driven by larger corporate entities moving into these tightly held markets, as well as a myriad of legislative and operational conditions – namely the rapidly rising cost of fuel. ZF Marine – or more specifically ZF Marine Krimpen b.v., the commercial thruster manufacturer – is poised to profit as it builds an impressive list of inland towboat companies enjoying the operational advantages and tremendous fuel savings that emanate from its thruster solution.

Building Blocks
When ZF bought HRP Thruster Systems B.V. in 2009, it was a strategic purchase that was intended to help HRP to grow its organization to a level where it was capable to serve clients globally. ZF turned out to be a perfect partner. ZF Group was looking to add marine thruster technology to its ZF Marine family of products, and it already had the established network of sales and service in place, as well as the engineering horsepower and organizational structure to grow the thruster business quickly and effectively.
"Essentially, we went from a small company to a big company, and the way in which we view and approach the market is significantly different," said Frank van der Vegt, Sales Manager, Commercial Craft Thruster Systems, ZF Marine Krimpen B.V. "The way it is taking off now means that you need a lot of focus, a lot of attention and a lot of people on site. So we used the strength of the ZF organization, in this case in America, to give this focus and to bring this to the next level."
Despite traditional concerns that the shallow draft and ever changing inland waterways system might cause damage to the units, ZF nevertheless pulled off its penetration and rapid growth in the inland towboat sector, a conservative niche that traditionally had not embraced azimuth thruster technology.

ZF Thrusters on the Water – here and now
Looking for a willing, stable partner, ZF Marine found Southern Towing Company, headquartered in Memphis, TN, as a firm that would embrace newer technologies. Southern Towing is one of the nation's largest transporters of fertilizer and other products along the nation's inland waterways. For more than 50 years, it has operated the largest fleet of anhydrous ammonia barges in the U.S. The company prides itself on building and running a cutting edge fleet. And, starting in 2008, it started outfitting a number of its new build towboats with the innovative rudder propellers. A total of six Southern Towing vessels are now equipped with ZF Marine Z-Drives.
"It's very much an industry where everyone waits for the first guy to do it and everyone watches," said van der Vegt. "And I think you're seeing that on the inland waterway market with some of the big companies that can absorb a first vessel project like this to test the technology. These big companies build one or two boats and get them in revenue service and compare them apples to apples. The smaller companies really watch for the results." In the case of Southern Towing, the company reported a nearly 30% savings in fuel costs.
van der Vegt adds, "When you look at the fuel savings, it's always difficult to give exact numbers because it is so dependent on how you are using the equipment. The savings is highly dependent on the vessel, route and operator, but I think that at least a 20% fuel savings for this type of push boat application is a safe number to mention."
Separately, American Commercial Lines (ACL) has also been a leader on the inland waterways incorporating Z-Drives, starting earlier this year when it took delivery of The American Way in February 2014. "Two boats have been received (American Way and American Spirit), two are under construction and four are on order," said an ACL company spokesperson. "All eight boats are 2,000 HP with ZF 5,000 units. "
In making the decision to add Z-Drive boats to the ACL fleet, the company cited improved performance, reduced operating costs, replacement of older boats and the addition of boats for business growth as the primary factors. At the same time, the company weighed the drawbacks, which it says includes the initial cost for spare parts, limited service coverage due to the technology being new, and additional training needs. While the jury is still out on the long-term cost benefits of the Z-Drive boats, early results are promising.
"Analysis shows a ~20% improvement in fuel burn or performance when ran hard," said an ACL company spokesperson. "It remains unclear whether Z-drive boats are more cost efficient than conventional drive boats with regard to maintaining the Z drive unit vs. shafts, gearbox, wheels and rudders. Time will tell."

Opportunities Abound
The ZF product line includes azimuth thrusters (360° steerable thrusters), Tunnel Thrusters, Shallow Draft Thrusters, and Thruster Control Systems. Units can be supplied with electric-, diesel- or hydraulic drive systems. The steering controls are advanced and interfaced with GPS and Dynamic Positioning systems. And, while the U.S. inland towboat market is large and promising, it certainly is not the only market in play for this propulsion technology.
Elsewhere, there are many emerging markets with mammoth river systems, namely South America and the Amazon River system, that present good opportunity as well. "We see the demand increasing for deck mounted units in the Amazon, as well as some of the big river systems in Africa that are growing along with the oil business," said van der Vegt. For example, the rudder propeller solution, particularly the deck-mounted version, is particularly attractive in remote areas where there are a dearth of marine facilities or infrastructure, as the deck-mounted unites are easy to maintain and replace without the need of a shipyard. In addition, many emerging markets want to build the boats locally to feed the local market, and with the deck-mounted solution, the countries can build their barges locally than easily add the propulsion solution.
"The advantage in push boat performance is you have cleaner thrust coming through the kort nozzles, so there is not a parasitic loss of the propulsion power that you have in a traditional vessel," said van der Vegt. "So you get more pure directional thrust pushing, pulling and turning the tow. You can get equivalent performance in a smaller power output, and so we are seeing with the tug fleets they are able to use smaller engines, meaning they are lighter, and with less weight penalty they are more fuel efficient."
"A 1400 hp pushboat (with the Z-Drive) can perform the same as a conventionally outfitted boat with 2000 hp– same barges, same loads – as each thruster has full power at 360 degrees. With traditional systems you only have full power in one direction."
While azimuth thruster technology comes with a number of advantages, the main reservation has been that the Z-Drive – which hangs below the vessel – is more vulnerable to damage than traditional systems, particularly on the shallow draft, oft changing and sometimes litter-strewn inland waterways.
Here the ZF global network of supply comes into play, as it realizes that keeping a boat in revenue service is JOB 1 for these operators. To that end, it emphasizes that a key strategic advantage is that – if the unit is installed as a top-mount thruster – it can be pulled and replaced with a swing unit easily and quickly – sometimes between eight to 10 hours – while the boat stays in the water.

Engineered Solutions: Just in Time
A key challenge in any manufacturing business is controlling costs in the design and production shops, and the ZF Marine thruster business is no exception. In fact, as this business unit produces no 'standard' units, it is particularly adept at looking at the project as a whole to design with the naval architect, with the shipyard and ultimately with the owner what is agreed to be an optimal solution.
"If a client comes in and says 'I want a 2000 horsepower boat,' our first questions are: What do you want to do with the boat?; What are you going to be pushing?; What kind of thrust do you need?," said van der Vegt. He explained that thrusters can offers several power and maneuverability advantages; for example of a vessel outfitted a traditional power train may require a 2000 hp power plant, whereas a vessel outfitted with a thruster may need only a 1400 hp power plant, offering substantial space, weight and fuel consumption advantages . "We want to offer an optimum solution based on what the client wants to do with the boat, and the interaction with the client is crucial" because it doesn't manufacture and house standard thrusters that are simply off-the-shelf.
Nevertheless and despite the custom nature of each order, ZF delivery times range between five and eight months, which is a key plank in extending its platform in North America as he said U.S. shipyards build boats faster than its European counterparts. And today, they are building a lot of them. ZF aims to be there, when they do. So far, so good.


(As published in the October 2014 edition of Marine News - http://magazines.marinelink.com/Magazines/MaritimeNews)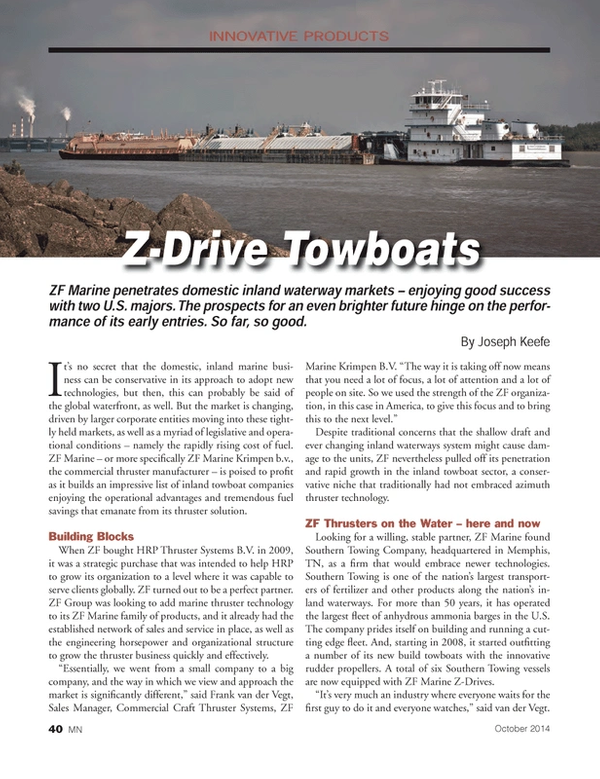 Read Z-Drive Towboats in Pdf, Flash or Html5 edition of October 2014 Marine News
Other stories from October 2014 issue
Content