Driving the Inland Waterways
By Joseph Keefe
Propulsion evolves, improves and powers forward in the inland markets. And, Z-Drive propulsion is the future.
In a white paper released late in 2014 by The Shearer Group, Ed Shearer and Greg Beers outlined The Next Generation of inland vessels, what will drive design changes and the advantages of azimuthing stern drives – or 'Z-Drives,' for short. The authors point out that, until recently, towboats on all the inland waterways and Gulf Coast have traditionally been built using main engines connected to reduction gearboxes connected to long drive shafts passing through the towboat hull. In a nutshell, according The Shearer Group, the advantages of using z-Drives on inland towboats include decreased installation time, increased fuel efficiency, increased trip time efficiency, decreased maintenance downtime and higher customer satisfaction. In fact, savings in fuel and trip time from 10 to 30 percent have been shown to be possible – in theory and actual towboat operation.
In practice, the maritime industry tends to be conservative, slow to adopt new technologies and measured in their approach when they do. Until recently, the use of Z-Drive propulsion units on inland towboats has not been taken seriously due to concerns about initial cost, maintenance and durability. But, that hasn't stopped Z-Drive units from being used for many years on oceangoing and harbor tugs.
That's because the Oil Pollution Act of 1990 (OPA 90) created a need for ship assist boats with greater maneuverability and stronger pull/thrust than traditional design ship assist tugs. In practice, two Z-Drive tugs can take the place of four conventional tugs during the typical ship docking operation.
According The Shearer Group, the original inland towboat to use z-Drives was the M/V Miss Nari. Originally built for Lake Tankers as a twin-screw conventional towboat in 1951, the boat was rebuilt with Niigata Z-Drives and diesel engines and put back into service in 1982. Seeing service on nearly every river on the inland waterways and even on the Gulf Intracoastal Waterway, the vessel reportedly suffered major failure since installation. According to its owner, the Miss Nari is a 3,000 horsepower towboat but has proven itself to be equivalent to a 5,000 horsepower conventional towboat. A strong endorsement, indeed.
Today, Z-Drive technology on the commercial waterways is hardly a novel concept, having firmly established itself as a viable propulsion solution, particularly where fuel economy and maneuverability are key considerations. That's because the mindset of traditional owners, long satisfied to continue operating long-tenured technology, is slowly changing. While Z-Drive technology is still the exception rather than the rule on the inland waterways, it continues to gain favor. Within this article, it's not hard to see why.

Changing Attitudes
According to Edward Schwarz, business development manager, ZF Marine Propulsion Systems Miramar, LLC, inland waterway towboat owners do not build vessels often, so a newbuild project is a major undertaking. He explains, "For many it might have been over 25 years since the last time they invested in building new vessels. The majority of growth for inland waterway operators has been through the acquisition of existing fleets, but as those opportunities dwindle, building new vessels will be the predominant growth activity. When deciding what type of vessels they want to build, operators have to ask themselves if they want to build for the future industry demands or build to traditional standards. Owners that want to prepare for the success of the next generation look at all the available technologies and then make decisions. This is what is truly driving changes in attitudes."
Roland Schwandt, General Sales Manager at SCHOTTEL, puts it a different way, saying, "Inland waterways offer a cost efficient and eco-friendly way of goods transportation through the country from and to coastal ports. And I would consider a rising of the inland waterways traffic volume in the years to come very probable. Of course, a higher traffic volume requires investments in traffic and transport safety. High maneuverability and short stopping distances on the vessels side will therefore get even more important. Inland waterway vessels often operate at full load, following a tight schedule, and therefore need a robust thruster with easy maintenance or exchange possibilities. Towboat thrusters will have to answer these needs. Especially adequate for this task are Z-Drives, which can be found on the U.S. inland waterways since 2008, while they have been used in other countries already for a much longer time on inland waterways."
And Wärtsilä, for example, reports that owners who adopted the Z-Drive solution found operational efficiencies that allow them to install up to 20 percent less power with steerable thrusters versus traditional FPP props. In addition, there is considerable fuel savings, as rudders provide drag when they operate. Perhaps the most compelling argument is improvements in maneuverability, as there is no longer a need for complex rudder systems – steering and flanking rudders are no longer needed.
Separately, ZF's Schwarz insists that the major skepticism involved the lack of references of Z-Drive vessels for the inland applications. Despite the proven performance benefits, worries about the robustness of Z-Drives in river applications persisted. But he says, "ZF currently has dozens of pushboat vessels operating everyday from Minnesota to Texas and everywhere in between. In 2016, we project that ZF Z-Drives will have accumulated over one million operating hours, just in U.S. river applications alone."

Driving Change
There will always be a reason to keep the status quo, especially when it comes to the maritime industry and change. On the other hand, there are dozens of reasons to dip one's toes in the waters that will soon be dominated by Z-Drive technology. Here are just a few:
Efficiency: As reported in the Shearer Group white paper, Jeffboat Shipyard and Aquamaster did a joint study and model test of a triple screw towboat around (circa 1997). Shearer says, "The model towboat was tested using the traditional propulsion system and then tested using a Z-Drive propulsion system. Each propulsion system was tested with a tow and without a tow. Thrusting straight ahead was the same for both propulsion types; steering forces increased 50 percent to 70 percent using the Z-Drives; stopping forces increased 50 percent using the Z-Drives; and maneuverability increased 54 percent to 390 percent using the Z-Drives. These are significant increases in vessel efficiency since inland towboats do not go in straight lines for long distances. These types of efficiencies translate into less fuel used to make turns and bends, to enter locks, and to work around docks and fleets; to gain more miles per hour using the same amount or less fuel; and to decrease accidents due to greater stopping and handling ability."
Reinforcing those metrics, Schwarz points to ZF's operational experience and predicts it is just a matter of time before Z-Drives hit their stride in U.S. waters. He adds, "When the industry hits a 50 percent Z-Drive adoption rate for new build projects, owners competing with old technology will have a difficult time winning competitive contracts. Just as the industry saw with the harbor tug market, this is when the market will meet critical mass and Z-Drives will become the preferred propulsion system for the market."
Kari Kyyrö, Naval Architect at Steerprop Ltd. is equally optimistic. "Azimuthing units offer significant benefits for river operations, where excellent maneuverability is usually a must. The market potential is good; however competition is also growing with makers developing products aimed specifically at the inland market. It will be interesting to watch if the U.S. operators will follow the European way and start building more diesel-electric push boats."
Pollution: OPA 90, and later, the EPA's so-called Vessel General Permit (VGP) both brought increased liability through a greatly expanded list of potential sources of leakage from vessels. In response, operators began to look for ways to eliminate any potential sources of oil leaks. Of course, a frequent cause of an oil leak from normal wear or damage was the stern tube shaft bearing or the strut shaft bearing, both of which are oil-lubricated bearings. Shearer and Beers tell us that "all conventional drive inland towboats have a shaft seal where the drive shaft goes through the hull. Over time as the seal wears, water leaks into the boat. On some seals, a small quantity of leakage is required to keep the seal lubricated. This causes water to accumulate over time in the boat's bilge where it mixes with oil and other liquids from mechanical sources. The boat operator then has to keep the bilge or other voids pumped out until the boat can be removed from service for drydocking to repair the seal. In addition to the loss of revenue, the cost of drydocking, and the cost of replacing the seal, the oily water mixture has to be disposed of properly." Z-Drive boats, on the other hand, produce no accumulation of oil or oily water mixtures in bilges or on the deck of the towboats.
Capital Investment and Maintenance: The old rule of thumb for the cost of new construction of a towboat with z-Drive units is to add as much as 25 to 50 percent to the cost of a traditional design. This comes from adding the cost of Z-Drive units to the total cost of a traditional towboat – but that doesn't tell the full story. This does not take into account the items that are eliminated from the construction cost of a traditional towboat. If a towboat is designed for Z-Drive units, there is no need for a main engine reduction gearbox, intermediate shaft, tail shaft, shaft couplings, shaft support bearings, stern tube, stern tube bearing and a raft of other related equipment. Hence, the cost of a new Z-Drive inland towboat will be approximately the same cost or at most 10 to 12 percent more than the cost of a new, conventional design inland towboat (depending on which manufacturer of Z-Drive units is used).
Brian Fariello, Wärtsilä's Business Sales Manager, Propulsion, Americas, couches the discussion in a different perspective, saying, "Downtime for any commercial vessel is critical. However many inland waterway companies are smaller and loss in time or revenue can be very damaging to their bottom line as well as reputation which could affect future contracts if they are viewed as having an unreliable fleet."
Fuel Savings: The Shearer Group's report goes into a great deal of detail on the real and potential fuel savings achieved by Z-Drive boats versus the fuel consumption for a conventional vessel. And, given the current state of oil prices, some of the financial assumptions (price per gallon of diesel) made by the report may now be (temporarily) dated, there can be no denying the long term financial impact that the switch to Z-Drives will have on the bottom line of any operator. Shearer's report went on to say, "Z-Drive towboats have now operated long enough to gather comparative data for trip times and fuel used on the same trips with the same tows as conventional towboats … It appears the Z-Drive towboats do make quicker trip times by one to two days per trip and the fuel consumed per trip is typically reduced in excess of twenty percent. In fact, the average fuel savings for a Z-Drive towboat versus a conventional towboat is 28 percent for the data in question."

Early Adopters and Visionaries
In every industry, there are early adopters, leaders and quite simply, companies and managers who embrace new technology in a quicker fashion. If you are talking about LNG propulsion in U.S. waters, then that discussion would have to include Harvey Gulf's CEO, Shane Guidry. When it comes to Z-Drives, the inland industry has its own list of owners, operators and designers who find themselves out in front of the pack. We picked out just a few for the purposes of this article.
For example, and seeking a complete power and propulsion system designed specifically for tug operations, Seattle-based Harley Marine Services recently turned to Caterpillar – ordering four Cat 3516 marine propulsion engines and four Cat Propulsion Marine Thruster Azimuth-Tug (MTA-T) rated drives. These units will power two new Harley Marine harbor tug vessels currently under construction at Diversified Marine Incorporated, a shipyard in Portland, Ore. Each Harley Marine harbor tug will feature a pair of 3516 engines, each delivering 2,575 hp (1,920 kW) at 1,600 rpm and two MTA 524-T thrusters with a 95.5 inch (2,400mm) propeller diameter. The MTA 524-T is a new version of a proven design, specifically optimized for the operation profile of a tug. Cat Propulsion's complete package for tugs includes engines, high-speed shafting, clutches, and controls.
In South America, SCHOTTEL has taken on the Paraguay-Paraná River System, which extends over 2,500 km and is characterized by a winding river, creating alterations of the rivers' flow, dams, silting and pollution which have great impact on a vessel's propulsion system. The push boats of Hidrovias do Brasil, a South American logistics specialist; operate in this demanding environment with heavily laden barges over long distances at a high average speed. Eight new push boats in total will reinforce the fleet by pushing a 16 barge train of 285 meters length each. A powerful propulsion system is their constant companion: They have been equipped with 3 SCHOTTEL SRP 1215 (1,600 kW each) Rudderpropellers, driven by electric motors and designed to resist large and heavy floating debris.
Meanwhile, and back in the U.S. heartland, Marquette Transportation Co. last year took delivery of the fourth and fifth 2,000-hp Z-Drive towboat from Master Marine, Inc., Bayou La Batre, Ala. The St. Peter was designed by Frank Basile of Entech & Associates, Houma, La., for Marquette's Gulf-Inland division, based in Harahan, La. Master Marine is continuing to build Z-Drive towboats, with more underway for Marquette, said the yard's president Randy Orr. The steel-hulled St. Peter is powered by a pair of Thompson Power Systems Caterpillar C32 Tier 3 1,000-hp engines at 1,800 rpm connected to ZF Marine ZF AT 5111WM-FP Z-Drives with 1,650 mm (65-in.) four-bladed propellers in nozzles. The package gives the boat a running speed of 10 knots with a loaded draft of 8 ft.
Not to be outdone, Houma, La.-based Enterprise Mariner Services, LLC (EMS) added its eighth Z-Drive towboat, the fourth from Sneed Shipbuilding. The 87 x 34-ft. Sebastian D, with an 11.5-ft. molded depth, was built by Sneed Shipbuilding of Channelview, Texas. This boat is well-suited for working the Gulf Intracoastal Waterway where they routinely push two 30,000-barrel petroleum barges. Propulsion power is provided by a pair of 1,000-hp Cummins QSK38M Tier III diesel engines coupled to the ZF Marine AT 5111 WM-FP Z-Drives fitted with 66-in. diameter propellers mounted in Kort nozzles. With these drives, the boats draw only 8.5 ft. The QSK38M engines also give these very maneuverable Z-Drive boats plenty of power to safely handle the currents of the Mississippi River.
And in an interesting twist to the equation, Eastern Shipbuilding last year introduced its cutting edge 4,200 hp Thunderbolt inland towboat designed around twin azimuthing Verhaar Omega electric V-Pod propulsion and diesel-electric technology. The ESG approach was collaborative, with input from operators, naval architects (Gilbert Associates, Inc. (GAI)) and propulsion OEM's (Verhaar Omega: since 2012, 19 Omega V-pods have been installed and are in service in Europe on various types of vessels). In selecting the podded propulsion system for inclusion on the design, Eastern came upon Verhaar Omega after meeting with two inland owner/operators that currently have Z-Drive towboats, and others that didn't. Listening to each and noting their concerns, it was decided that the V-Pod was the best solution. Because the Thunderbolt will typically operate in shallow, sometimes turbid, debris filled water, ESG designed underwater protection in the form of a pipe guard protection system for each Omega V-Pod. These pipe guards protect the vessel from side bank impacts when turning in rivers and canals and stern impact protection when backing down. Currently, Omega has V-Pod units ranging from 445HP (330kW) to 2,011HP (1,500kW), but the thrust efficiencies underway and the maneuvering capabilities are far greater than conventional tail shaft, propeller and nozzle propulsion systems.
Finally, and pushing a complete design package in much the same way as Eastern Shipbuilding has moved forward with its Thunderbolt, Karl Senner has introduced a unique pushboat design intended to accommodate the Steerprop solution and also maximize the utility of the thrusters / z-drives. Karl Senner, the Shearer Group and Steerprop all look to leverage deep experience with the U.S. inland markets as well as proven success and experience with Steerprop in the offshore markets, starting back in 2001. According to Chris Senner, reliability is a key aspect of the Steerprop design. He adds, "We work closely with all parties during all stages of the design, build, and operation to ensure the best solution for the application. We aim to minimize downtime and maintenance for the life of the vessel."

Horses for Courses
All but a foregone conclusion, it is likely that Z-Drive propulsion will soon overtake conventional drive methods on the U.S inland rivers. With a little more front end outlay, operators purchasing z-drive packages will likely see that money and more return to the coffers in the form of improved efficiencies, better safety and a host of other metrics. We even found ourselves asking whether the (anticipated) advent of subchapter M towboat rules might even expedite the sea change. That depends on a lot of things, of course, but without a doubt, owners who make the move will soon boast more bang for their buck in the same sized river platform. And, isn't that what it's all about?

(As published in the January 2016 edition of Marine News - http://magazines.marinelink.com/Magazines/MaritimeNews)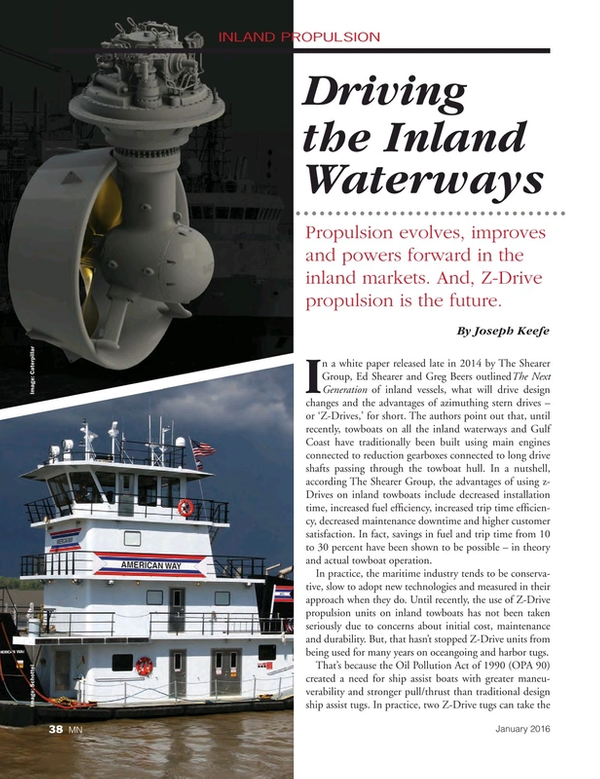 Read Driving the Inland Waterways in Pdf, Flash or Html5 edition of January 2016 Marine News
Other stories from January 2016 issue
Content