MarineNews Editor's Note
Joseph Keefe
The New Year finds all of us taking 'last line' from the safety of a protected berth and proceeding full ahead on the next voyage (number 2016). This trip begins with many unanswered questions and an equal number of uncertainties. In maritime nomenclature, this translates into a tramp voyage with limited contractual destinations and a bottom line that must be protected at all costs, in a year that promises more regulatory pressure on top of a choppy business climate. Nowhere is that more true than for domestic and North American ferry and passenger vessel operators.
Our annual Passenger Vessels and Ferries edition takes an in-depth look at one the most important brown water, workboat mission sets. Hence, if you open this periodical – the number one audited subscription publication in this genre – looking for the latest information on the ferry and passenger sectors, then you came to the right place. From training to regulatory issues, public and private concerns, all the way to commercial financial strategies, you'll find it here.
West Coast-based Sarah McCoy's take on the Washington State Ferries, for example, digs deep into the issues and challenges associated with running the nation's largest ferry system. That story starts on page 32. Also along the way, we reached across our northern borders for the Canadian, North American perspective, then across the pond to hear what's happening at Interferry and international ferry sector, and of course, we spent time with Dave Anderson, General Manager/Director of Operations of Fire Island Ferries, who also just happens to be the Passenger Vessel Association's (PVA) Chief Executive. That's because, and without all three perspectives, you simply can't get the full picture of what's hiding just over the horizon. And, there's plenty to think about.
At the same time, it is also true that sometimes, what you need already exists right in your own backyard. For example, educational and training opportunities for maritime professionals – especially for those toiling or looking to break into in the inland, brown water and coastal markets – are doing nothing but get better, and more prolific. On the Gulf Coast, for example, those opportunities are manifested in the expanding role and impressive facilities located in the heart of ports like Houston and New Orleans. A look at these affordable, proven community college programs therefore begins on page 28.
Finally, it is at times like this that I remember that there's a quote mounted on a plaque located just inside the front hall of the administration building at the Massachusetts Maritime Academy. It reads, "You can have a Merchant Marine with first class men even if they sail second class ships, but second class men can't be trusted with the finest ships afloat." The quote, attributed to the nation's first Marad Chief, Joseph P. Kennedy, reminds us that the future of the waterfront requires investment in the people who will someday be in charge of it all. That's a good place to begin our 2016 voyage, don't you think?

(As published in the January 2016 edition of Marine News - http://magazines.marinelink.com/Magazines/MaritimeNews)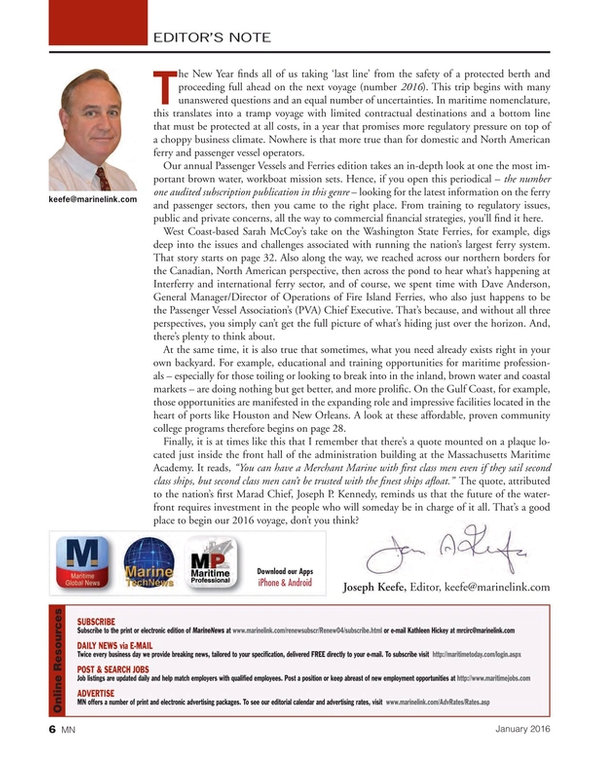 Read MarineNews Editor's Note in Pdf, Flash or Html5 edition of January 2016 Marine News
Other stories from January 2016 issue
Content