Foss Maritime: Hard at Work in the Arctic
By Kathy A. Smith
As the oil industry awaits a much-needed rebound, Foss Maritime's robust presence in the Arctic region underscores its commitment to the region, the environment, and a business plan that looks ahead to the next chapter.
Reports of the death of commercial Arctic activities have been greatly exaggerated. While Arctic energy projects have, by and large, been put on the back burner – like most things related to energy in other places – there are still many projects ongoing; and still others being planned. For example, and as Marine News was headed for printer, a new coalition announced the launch of a six-figure advertising campaign, calling on the Administration to include the Arctic in the next offshore leasing program. The coalition, which includes NOIA and other interested stakeholders, specifically addresses environmental groups who continue to insist that the current lack of active in the Arctic is justification for excluding the region from the plan. According to a coalition spokesperson, the advertising campaign is an effort to show that industry remains committed to the Arctic and in the most obvious terms possible, is putting its money where its mouth is.
In the meantime, workboats have found many reasons to be in the Arctic, despite the lull in action there. For example, Foss Maritime, veterans of Arctic ocean towing and short-sea shipping work, used several ice-class tugs, shallow draft tugs and deck barges to complete a complex and challenging two-year sealift operation to a remote area of the Alaskan North Slope, approximately 60 miles east of Prudhoe Bay. The work was done in support of a major oil exploration development project.
Workboats at Work: in the Arctic
During the first lift in the summer of 2013, Foss provided two barges, two ocean-going tugs, and two assist tugs, including the 73-foot shallow draft tug Emmett Foss, making its first voyage after its construction at Foss Rainier Shipyard. The assets were used to transport two oil field tank modules from Anacortes, Washington to the project site on Alaska's North Slope.
For the second lift in the summer of 2015, four tugs, including the first of three Arctic Class tugs built at the Rainier yard, the Michele Foss, towed four barges carrying seven oil field modules, each weighing 2,685 short tons, 2,300 nautical miles from South Korea to the project site. These modules are used to process raw hydrocarbons into the requisite product streams. During the final shallow-water leg of transit, Foss pioneered a short-sea route through the Barrier Islands to get the job done.
"In 2015, the ice never really receded," explains Leiv Lea, Director, Project Management and Sales at Foss Maritime. "We used shallow draft tugs to bring the barges through that route, along with one of our tugs, and that allowed us to bring the barges in, without damage, even though the ice was out there (6.5' of draft was available at the delivery site). The shallow draft tugs passed back and forth on that route, and they did soundings that showed that the Michele Foss could be the lead tow tug through that passage. Once they got closer to Point Thomson, the shallow draft tugs took the barges into the dock."
Robust Platforms for Demanding Work
The Michele Foss and her sister vessel Denise Foss (which entered service this past summer and delivered further drilling equipment to Alaska's North Slope during the summer of 2016) are ABS D0 Arctic class tugs. The hulls are designed specifically for polar waters and are reinforced to maneuver in ice. The vessels comply with the requirements in the ABS Guide for Building and Classing Vessels Intended to Operate in Polar Waters, including ABS A1 standards, SOLAS and Green Passport.
The Michele Foss has a bollard pull of 221,000 pounds and is equipped with a Caterpillar C280-8 main engine, a Nautican propulsion system and Reintjes reduction gears. Her tow winch was supplied by Markey Machinery. Notably, ballast tanks were deliberately not incorporated into the vessel's design to prevent the transportation of invasive species. Holding tanks were added for black and gray water to permit operations in no-discharge zones (such as parts of Alaska and California), and other green technologies include hydraulic oil systems compatible with biodegradable oil, energy efficient LED lighting, and High-energy absorption Schuyler fendering have arguably created the most environmentally-sound vessel for the pristine area it works in. The third vessel, Nicole Foss, is currently under construction at the Rainier yard and is expected to be in service in 2017.
Carefully Managing Ice
The entire 2015 transit from South Korea to Point Thomson took approximately 25 days steaming time at 7.5 knots; some variances occurred due to changing weather. The vessels stopped at Dutch Harbor to refuel before completing the voyage at Point Thomson. There are several areas where the team could wait for ice to clear, if needed. While the vessels can work in ice conditions, they are not ice breakers, explains Lea. "What we do is work around the ice," he says. "We have ice management plans. We do ice flights, where you have ice pilots that fly over the ice, and then they can determine the coverage and see if they see any routes developing. It's a really active procedure."
In addition to various Alaskan and Arctic projects, Foss has a year-round tug presence with its company Cook Inlet Tug and Barge (CITB). Shallow draft barges transport fuel around Western Alaska, and various towing jobs see the crews work in the Aleutian Chain as well as perform in-river work in the Yukon and the Kuskokwim regions.
In Cook Inlet, CITB provides harbor assist tugs that work as ice escort in the winter months from about November through April. "Typically we do ice escorts for tankers and fuel barges and any containerships that come into the upper Cook Inlet," says Ben Stevens, General Manager, CITB. "Then we assist them into the dock. It's a pretty challenging environment because of the tidal difference."
CITB's main ASD ice-class tugs servicing this market are the 85-foot Stellar Wind and the 65-foot Glacier Wind. They also operate two conventional tugs, the shallow draft tug Captain Frank Moody, and a smaller vessel, the Junior, a 60-foot twin-screw tug that services Seward, Alaska. CITB also operates five petroleum barges of various sizes and three tugs in support of their sister company's fuel distribution business.
Fuel delivery is a necessity in rural Alaska, which keeps regular work coming in. That's especially important to any local business model because Alaska's tug and barge operators have encountered a fairly significant downturn consistent with the falling price of crude oil. CITB vessels deliver to remote regions of Western Alaska up through the Bering Strait. It's a challenging environment because most destinations have no port facility, so the barges are beached and hoses are deployed or hoses will be floated from where the barge is anchored.
In-river fuel deliveries are mainly for schools and power plants. "Once the ice pulls out in the spring, they're waiting for the fuel to come in after the winter, so the rush is on in the early spring to try to get the fuel into the communities as soon as we can," says Stevens. "And then you try to time it to get the fuel in there as late as you can in the season to top the tanks off before winter sets in."
Unique Conditions demand Special Equipment and Personnel
Alaskan weather can be harsh and ever-changing, so being able to rely on people and assets is vitally important. Stevens says approximately 48 crew are rotated between vessels. "You have to have personnel that have a lot of qualifications and a lot of experience in the region and understand the dynamics that they could face because there are no support services up there," he says. "If you don't have the support service around, the small tug and barge unit has to be self-contained. It's a unique operating environment and it also takes a unique, qualified mariner to be able to successfully work those regions safely."
As the oil patch awaits better times, here and in the Gulf of Mexico, Foss and its business assets are already hard at work in the region. Investing in Arctic class equipment, it also looks like they are here to stay – in good time and bad.
(As published in the October 2016 edition of
Marine News
)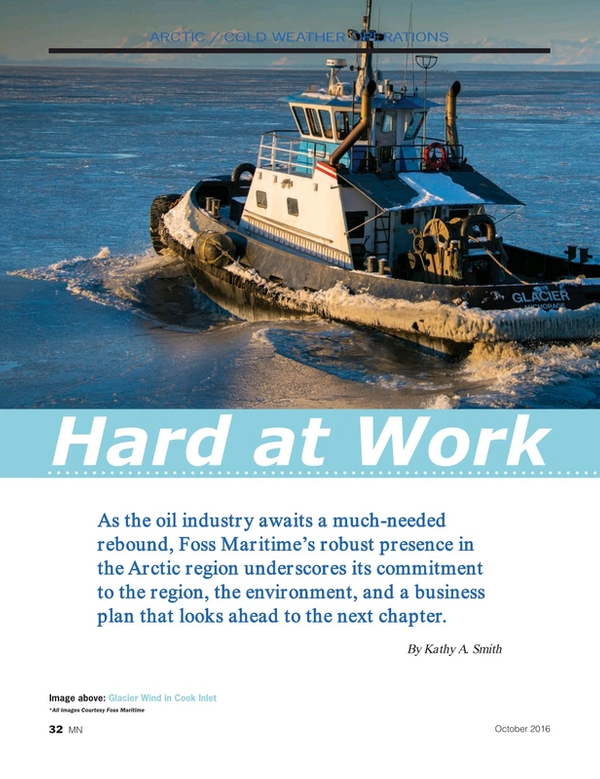 Read Foss Maritime: Hard at Work in the Arctic in Pdf, Flash or Html5 edition of October 2016 Marine News
Other stories from October 2016 issue
Content