The Complicated Business of Marine Construction Worker Claims
By Mark Engel
The right insurance policy could help you stay above water after a workplace incident.
The day-to-day job of marine construction workers has many potential hazards. While restoring shorelines, dredging harbors, repairing bridges and building docks, they often operate heavy machinery. Manning cranes, forklifts and excavators day or night, it is not uncommon to work in sweltering heat, freezing cold temperatures and an array of other challenging weather conditions. With all of this in mind, it's safe to say the risk of danger is greater for people in this profession than your average line of work.
When injuries happen, workers and employers, already bound by regulatory red tape, are thrust into a dizzying maze of laws and jurisdictions to file a claim and collect payment for hospital bills and missed paychecks. This convoluted process is particularly daunting for smaller companies and the many marine construction workers classified as independent contractors who are responsible for meeting their own insurance needs.
Too Many Acts to Follow
For starters, there are multiple laws that govern maritime worker protections, and they overlap in many respects. This creates gray areas that can take time – and lawyers – to interpret. Each state has its own workers' compensation statutes that govern who can file for benefits, the amount of benefits available and how long the benefits last. On the federal level, the Longshore and Harbor Workers Compensation Act (LHWCA) applies to those who work around navigable waters in or adjacent to the United States at piers, docks, harbors, sea terminals and the like. Then there is the Jones Act (or P&I), which applies to "seamen" – employees who work at least 30 percent of the time on barges, oilrigs, shipping boats and other sea vessels. Even the interpretation of a "seaman" can be broadened, depending on the circumstance.
On paper, these three categories of law look distinct. In reality, they are separated by very thin lines, causing headaches for employees when getting reimbursed for injury or damages suffered on the job. For example, a marine construction worker and seamen share several job duties and workplace descriptions. Depending on the job, an employee could spend several days on a boat or repairing a bridge. A seaman, who is captaining a work boat, could jump off and help secure the seawall adjacent to a pier.
The Murky Waters of the Claims Process
With fuzzy boundaries between laws, a lot can go wrong. Suppose a dockworker is injured by a crane while working on a barge; is he covered under LHWCA as a longshoreman or under the Jones Act because the incident took place on an owned barge? What if this is a third-party barge, could this be a Maritime Employee Liability claim, also under the Jones Act?
Similarly, what happens when a residential construction worker, normally covered under a state workers' compensation scheme, is injured while moving a barge to a coastal jobsite?
Unfortunately, the claims process is confusing for the many marine construction workers who fall into these ambiguous situations. With maritime insurance spending on the decline, carriers and agents are often staffed with generalists who don't wield the intricate knowledge needed to provide proper coverage. Quite frankly, insurance companies haven't focused on the maritime industry. Few have found a way to make carrying all-inclusive offerings available, bridging the gaps and improving customer experience. So, many marine related companies, especially in the marine construction area are forced to go to multiple companies to meet all of their insurance needs.
So, when a maritime incident happens, the company needs to figure out which kind of claim to file – workers' compensation, USL&H, P&I, maritime employee liability, etc. Chaos ensues as the carrier's agents and attorneys decide which jurisdiction applies. It can take weeks of sorting through separate policies to determine the applicable jurisdiction and law. In the meantime, the injured worker is left to cover these exorbitant medical bills out-of-pocket.
When the arduous process is complete, the claimant may not get a fair payout. Each statute yields different types of awards. Under the LHWCA and state workers' compensation plans, both the percentage of average weekly wages and the total amount of money one can collect are capped. Plus, the injured party only gets funded for the duration of the injury. Claims made under the Jones Act work more like personal injury cases. Filers can also recover wages and medical expenses, but they can win additional awards for pain and suffering, depending on the claim. Too often, the defendant has the means and the connections to steer a claim to the policy with the smaller payout, depriving an employee of sorely needed funds, even though he "won" his case.
Anchors Aweigh: the Right Insurance Policies Make for Smoother Sailing
How can marine contractors in the longshore business make the claims process work better? Here are some tips for selecting insurance coverage that will put you in a better position should you need to file a claim.
•Leave the legal wrangling to the experts
Marine construction companies and their workers aren't expected to have a deep legal background. So, why should the onus be on them to comb through insurance policies and laws to figure out which ones apply? Amazingly enough, claimants are often tasked with bridging insurers' knowledge and product gaps.

Claimants, and their employer, will need to be involved in the process, but the folks with the insurance and legal background should be doing the heavy research to determine under which policy and statute a claim should be filed. Workers should only be brought in to evaluate the suggested course(s) of action and provide feedback. Your insurance carrier should then handle the details of settling the claim quickly and efficiently.
•Make sure your insurance company carries all lines of coverage
If you rely on more than one insurance carrier to fulfill your employee injury and maritime coverage needs, then that is too many. An insurance company that offers all relevant employee injury and marine lines of coverage—workers' compensation, USL&H, maritime employee liability, Marine General Liability, P&I and Hull in addition to traditional property casualty lines, contractor equipment, auto, property and excess/umbrella delivers peace of mind. The marine construction workers and business owners know they won't be left in the lurch due to a gap in coverage. That company should also have the expertise on staff to deal with claims that originate onshore, offshore and anywhere in between.
•Demand deep maritime industry expertise
In addition to a reliable insurance background, your insurance company should have first-hand knowledge of how the maritime industry works. An insurance company that employs maritime professionals and experienced marine insurance agents is more likely to steer your claim in the right direction than a traditional P&C carrier.
•Talk to an agent
Insurance is a complicated business, so shop around and talk to a couple of insurance agents about your workers' employment status and job duties. They should have an idea of the scenarios to prepare for and the most appropriate coverages for them. You, in turn, should confirm they supply all lines of coverage and take on the bulk of the claims process for you.
After all, insurance is supposed to prevent a workplace calamity from sinking you.
The Author
Mark Engel is ProSight's Program Executive for Ocean Marine, Cargo and Offshore Energy. He's been in maritime insurance since 2002. He graduated from the Birmingham University, UK in Economics and Politics and holds an Associateship of the Chartered Institute of Insurance.
(As published in the October 2017 edition of
Marine News
)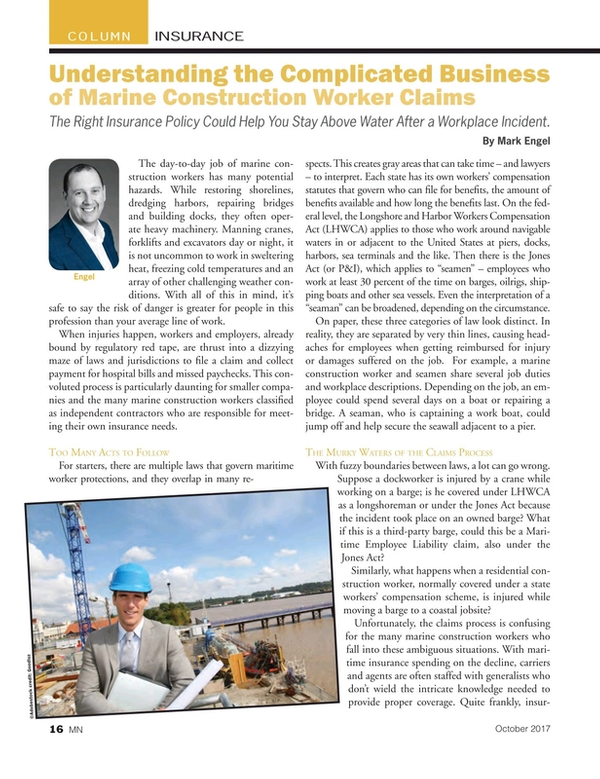 Read The Complicated Business of Marine Construction Worker Claims in Pdf, Flash or Html5 edition of October 2017 Marine News
Other stories from October 2017 issue
Content