Managing Change the AVEVA Way
By Stéphane Neuvéglise and Gabriel Powell
Addressing the Need for Better Efficiency When Managing Change
In today's marine-scape of declining newbuild activity, many boatbuilders are seeking to buoy up productivity by reducing time to market. But how do you go about contracting intricate concurrent design and production flows without loss of quality, let alone the risk of production spiraling out of control?
The general tendency is to overlap design phases. However, this potentially creates a greater number of uncertainties. Ship design includes multiple disciplines and specialties in spiraling activity cycles. Interaction between these cycles is not always made simple, especially when teams are spread across the globe. Indeed, accelerating these spirals can leave teams out of sync when upstream design amendments are carried out. For example, if a new engineering constraint is integrated into the design phases, it will inevitably have a knock-on effect on the choice of material and production techniques. And what if the design update arrives too late? The consequences in terms of material cost and delay can be disastrous.
This is why, in a context of accelerated cycles, there is an even greater need to facilitate rapid interaction between engineering and design phases, to ensure that production teams can be provided with higher quality designs. To this end, shipyards need to incorporate design and flow management tools to populate adjustments of the various design phases in a synchronized manner.
According to Semih Zorlu, General Manager of SEFT, "You have to be confident that all the systems are correctly integrated in the hull and that clashes have been eliminated before you start building the vessel." And it is essential to allow a rapid propagation of such changes before production boosts. This means tracking modification effects across the board from engineering to design phases without affecting production or the quality of the input to production.
AVEVA's Answer
The solution to achieving a synchronized and efficient integration of engineering and design information requires three essential capabilities. These are:
enabling engineering and design information to be shared collaboratively by all disciplines
enabling that information ownership and changes are robustly controlled
enabling information maturity status clearly visible.
AVEVA Marine has developed a unique Integrated Engineering and Design solution that brings together these requisites. With this solution, shipbuilders may propagate modifications and check consistency at all times. A 'Compare & Update' functionality enables all disciplines to work efficiently at their own pace while keeping in step through periodic, controlled comparisons of their work.
Changes are highlighted, enabling effective prioritization of effort by each discipline to eliminate inconsistencies in a controlled manner. For example, when designing an OSV, a process engineer will develop the schematic design of the water ballast system. This is translated into a 3D pump and piping layout by the outfitting designer, who must also provide cableways for the Electrical & Instrumentation engineer's needs and negotiate bulkhead penetrations with the hull designer. Each of these specialists has their own uncertainties to eliminate and, in doing so, will make changes that can impact the work of the others.
Better Design Spiral with Greater Consistency
AVEVA's Integrated Engineering & Design solution allows shipbuilders to maintain full control of their design implementations and to manage amendments quickly and efficiently. The synchronized design phases make it possible to easily manage punctual changes – changes brought about by client requests, new regulatory requirements, contributor divergence and supplier defaults.
Increased overall visibility and improved change management results in compressed design integration time, while at the same time improving end design quality. Zorlu adds, "It was very easy to implement revisions and create new drawings when needed and, as a result, production costs were controlled. AVEVA Outfitting enabled us to efficiently create all the machinery and propulsion elements in the vessel."
Compare and Update
Unlike design tools that rigidly impose rules at every step, the flexibility provided by the Compare & Update function – included in the Integrated Engineering & Design solution – enables provisional, non-compliant design information to be created and revised in a controlled manner. This facilitates response to change, whatever the cause. For example, a late-emerging requirement to use different engines can be assessed for impact by inserting 3D models imported from the vendor's CAD system. The various clashes with hull structure and outfitting will be immediately apparent but will not prevent the new engine models from being added. Design revisions can then be carried out efficiently with all affected disciplines able to see the necessary changes.
'Compare & Update' provides the necessary functionality for a design-spiral workflow that embraces all project participants. It can be extended to multisite projects by the use of AVEVA Global, and is delivered with practically all modules within the AVEVA Marine suite of applications. In this way, design departments can provide results of higher quality and consistency to production teams more quickly.
Case Studies
VARD operates nine shipbuilding facilities, all of which use AVEVA Marine for the design and production of every type of vessel. VARD chose the full AVEVA Marine solution, because it was considered to be the best option that could address their requirements. The solution, combining AVEVA Marine and AVEVA Global, supports efficient multi-site engineering and design processes from early and basic design, through detailed hull and outfitting design, to the automatic creation of manufacturing data and drawing documents.
VARD offers a wide range of offshore and specialized vessels, especially in the high-end, complex vessel sector with significant customer-specific adaptations. Senior Vice President of Technology & Engineering, Stig Sandanger Riise, said, "Our designs for complex projects offer a flexible configuration which makes it possible for the ship owner to make a late final selection of on-board equipment and systems for the vessel's specific mission. We cooperate closely with shipowners and we often have to meet demands from them for late modification in the design stage and often even during the fabrication stage."
Vard managed to reduce the calendar time needed for design by 30 percent. Stig Sandanger Riise added: "By implementing the AVEVA Marine software solution we have started a process of creating structured ship model data that can be used throughout the VARD group for efficient design and production."
Separately, AVEVA's Integrated Engineering & Design software is helping Canada-based shipbuilder Chantier Davie turn a container ship into an auxiliary oil replenishment vessel for the Canadian Navy. Using AVEVA Global they are able to concurrently plan, design, construct and deliver the vessel in just 24 months.
The pace of the project is such that no individual could manage on their own without the help of AVEVA ERM, which made it possible to easily identify and solve problems. Integrated procurement and job card planning, along with tracking using AVEVA ERM, increases the efficiency of production teams. It also provides better visibility of warehouse priorities when critical items are received.
"We are making use of the AVEVA system […] to prevent silos of information forming," said Lindsey Kettel, Vice President Business Processes. "This enables us to anticipate problems earlier and resolve them faster, to limit impacts to production activities. The result is a more cost-effective program being delivered on schedule."
The Authors
Stéphane Neuvéglise is a Product business Manager at AVEVA. He holds a degree in Marine Engineering & Naval Architecture from Ecole Nationale Supérieure de Techniques Avancées in Paris, France.
Gabriel Powell is AVEVA's Business Development Manager. He is a graduate of Texas State University with a BBA in Marketing, and received an MBA from the University of Houston.
(As published in the October 2017 edition of
Marine News
)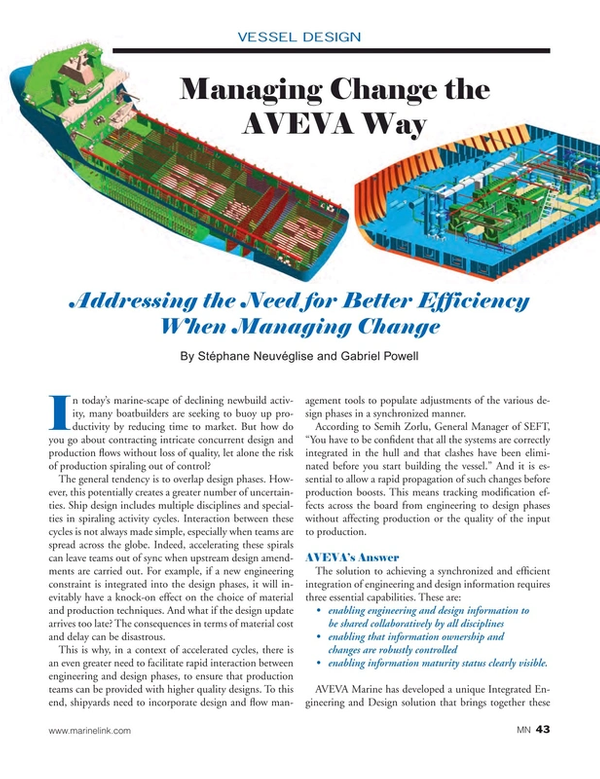 Read Managing Change the AVEVA Way in Pdf, Flash or Html5 edition of October 2017 Marine News
Other stories from October 2017 issue
Content