MUM's the Word: New UUV Takes Shape in Germany
By Greg Trauthwein
As the world of autonomous vehicles flourishes on land and in the air, subsea applications have proven more challenging, despite great strides in recent years to deliver fully autonomous, efficient systems at sea. A team of engineers from Germany, engineers teamed from industry and academia, are aiming to drive the subsea vehicle market further faster courtesy of a project known as the Large Modifiable Underwater Mothership, or MUM.
"Today's AUVs are usually limited with regard to energy, payload capacity and autonomy," said Hendrik Wehner, Design Engineer, thyssenkrupp Marine Systems. "For a sole autonomous movement of the ships, smart software solutions are needed. Our partners from University of Rostock and ATLAS ELEKTRONIK are setting the pace there. Large autonomous underwater platforms that can be configured around a payload do not yet exist. MUM will be engineered in such a manner that future payload modules can be designed by anyone. We see a great potential to reduce costs in the industrial and scientific sector, if a vehicle is not engineered to a specific task, but can be configured. The project's sole focus is on the civil sector."
The project brings several notable entities to the table, including engineers from thyssenkrupp, Berlin Technical University, the University of Rostock, Atlas Elektronk and EvoLogics, all working together to develop a new type of unmanned underwater vehicle.
MUM will receive funding from the German Federal Ministry for Economic Affairs and Energy over three years, and its aim is to open up new ways to explore and harness the potential of the world's oceans.
Meet MUM
According to the partners, MUM is breaking with old conventions: The modular, unmanned underwater vehicle performs its tasks largely autonomously, with an innovative modular design enabling the new vehicle class to be customized cost-efficiently for each mission. Individual base modules can be freely combined with specific mission modules to form large systems, enabling even unusual and highly specialized tasks to be performed quickly and easily. "The kind of modularity we are envisioning is a challenge for complex systems, especially due to the physics of the underwater space. We are talking about vehicles that will change in configuration and shape from job to job," Wehner said. "To get from a functional architecture to a proof of principle of a new class of underwater vehicles with our scaled model tests at Berlin Technical University in two years from now is ambitious. It will be a challenge for the hardware and software teams. But we have the best people working on it and we are confident to reach our goals."
Possible activities range from payload transportation and operations to research missions and stationary deep-sea tasks, able to tackle jobs on the industrial and scientific fronts.
A chief limitation in subsea autonomy is addressing the issue of power, and in this regard MUM will look to incorporate an emission-free fuel cell propulsion system to allow for deep dives and long range duration.
"The world's oceans present a wide range of tasks and questions that cannot yet be addressed because we don't have the appropriate vehicles and systems," said Marc Schiemann, project manager at thyssenkrupp Marine Systems. "MUM offers a wealth of new options for industrial marine engineering and scientific ocean research. We will equip the floating, wireless underwater vehicle with an air-independent fuel cell propulsion system. Our goal is to develop a vehicle which allows diving depths of up to 5,000m and continuous operation for several weeks."
With a payload capacity of several tons, MUM is capable of handling even heavy-duty tasks. The individual modules can be reused, permitting a significant reduction in costs compared with conventional vehicle concepts and much quicker development cycles. Newly developed mission modules are also easy to integrate.
MUM 2025
Research and development work for the project is expected to be completed by 2020, with a 1:5 scale model built and tested. The partners are targeting market readiness by 2025. As the project coordinator, thyssenkrupp no stranger to the subsea market. "thyssenkrupp is the market leader in non-nuclear submarines. A team of engineers within the company is dedicated to apply the cutting edge submarine technologies to the civil subsea industry. Within recent research projects, we for example developed a concept for electrical subsea power generation and storage based on non-nuclear air independent submarine propulsion technologies as well as a concept for a manned multipurpose submarine for arctic offshore operations," Wehner said. "The latter project was conducted together with Statoil ASA and can be seen as the starting point to think about a new class of large unmanned underwater vehicles that now concluded in the MUM project." thyssenkrupp is the project coordinator and will among other things develop the overall operating concept for MUM and translate it into a draft design for the vessel in close collaboration with Berlin Technical University. The company will also develop and test the fuel cell energy supply. Atlas Elektronk is responsible for the guidance and navigation system (GNC) incorporating the control functions provided by the University of Rostock and communications developed by EvoLogics. Berlin Technical University will integrate the hardware into a vehicle concept and test scaled models of MUM. EvoLogics will be responsible for developing a telemetry network to enable the autonomous and accurate underwater navigation, positioning and communication of the new vehicle.
The University of Rostock will develop an intelligent and fault tolerant control system.
Get in Touch with MUM
According to Wehner, the project team is always scouting for innovative thought and development in the subsea space:
"We have an advisory panel in place to informally discuss their view of the future of undersea autonomy with. The panel comprises of subsea industry and research stakeholders. We encourage everybody to get in touch without any obligation (www.mum-project.com). We are particularly interested in forward thinking organizations that see potential applications for these vehicles and act as sparring partners for our unconventional ideas. When the project succeeds, we plan to team up to develop, build and test a prototype."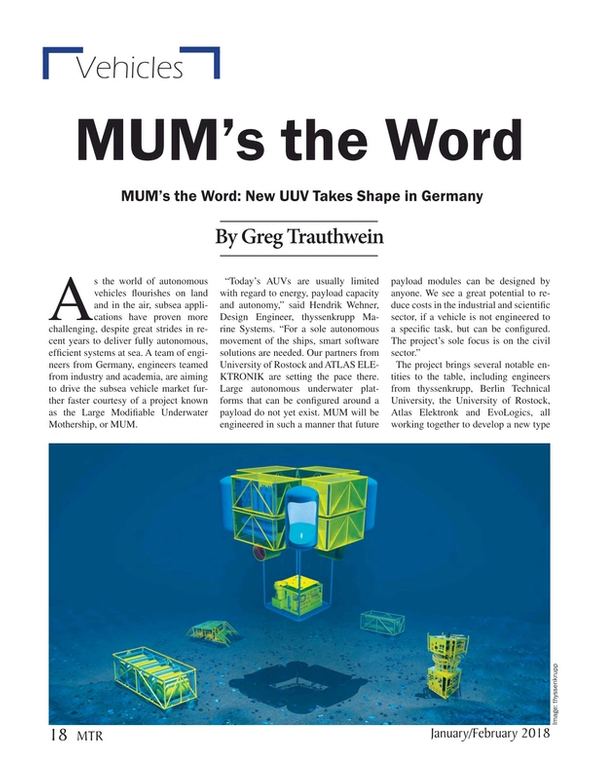 Read MUM's the Word: New UUV Takes Shape in Germany in Pdf, Flash or Html5 edition of January 2018 Marine Technology
Other stories from January 2018 issue
Content