Deck Machinery Ana Cargo-Handling Equipment — A Review—
With current daily operating costs totaling many thousands of dollars, ships must keep port time to a minimum for cost-efficient operations.
Therefore, reliable and efficient cargo-handling gear, deck machinery, access equipment, and stowage systems are essential for a fast turnaround.
MR/EN asked the manufacturers and distributors of this type of shipboard and shoreside equipment to tell us about their latest developments. The review that follows is based upon the responses we had received at press time.
Free literature describing all of the equipment featured in this review is available from the manufacturers.
FOR MORE INFORMATION If you wish to receive more information and brochures on any of the products described, circle the appropriate number(s) on the postagepaid Reader Service Cards that are bound into the back of this issue.
APPLETON MARINE Circle 10 on Reader Service Card Appleton Marine cranes have been specified for use on 16 highspeed patrol boats for the U.S.
Coast Guard currently under construction at Bollinger Shipyard in Lockport, La. These telescopingboom units have a capacity of 1,750 pounds at a maximum working radius of 18 feet, and feature a 7-foot boom extension.
These cranes also feature an operational capability with full load at 15-degree list while maintaining a 6:1 structural safety factor. Other features include dual electrohydraulic controls (local and remote), stainless steel cylinder rods, 50-fpm winch line speed, combination steel/ aluminum construction for maximum weight savings, and an electrohydraulic power unit with an axial piston pump for low heat build-up.
An articulated-boom crane rated 4,900 pounds capacity at 25-foot working radius is being installed on all 10 Torpedo Weapons Retrievers being built for the U.S. Navy at Marinette Marine in Marinette, Wise.
A full line of API/ABS rated cranes in telescoping or box boom configurations ranging from 4 to 100 tons capacity is available. All Appleton cranes feature 360-degree continuous- swing rotation, stainless steel fasteners, exposed valve spools of stainless steel, and a four-step inorganic zinc based marine coating system. A wide variety of options is also offered.
Appleton's towing and anchorhandling winch line features 10 models ranging in capacity from 50,000 to 660,000 pounds line pull.
These diesel-driven units are available in waterfall or side-by-side double-drum configuration.
Special-application cranes and winches are also available to meet the requirements where off-theshelf equipment will not do the job.
Appleton Marine is a division of Wartsila-Appleton, Inc. located in Appleton, Wise.
ASEA Circle 11 on Reader Service Card ASEA, Inc. of White Plains, N.Y., markets it Optitrim system that is designed to help plan cargo loading, fuel oil and freshwater bunkering, and the correct positioning of ballast in order to obtain maximum fuel savings. The company reports that this system will increase operating efficiency substantially, reduce costs, and pay for itself in less than a year.
The Optitrim indicates the most efficient mode of operation at every speed and load condition, showing basic optimum and actual figures. It can calculate cargo in each hold in percent, volume, or weight. The unit provides optimum trim calculations when the estimated average speed is used as input. It then calculates the optimum trim for the mean draft and presents the optimum fuel savings in tons per day when the ship is retrimmed to its optimum.
The operator can shift cargo from one hold to another and immediately read off the differences in fuel savings by doing so. Every factor that affects the trim is taken into consideration.
BEEBE Circle 12 on Reader Service Card Beebe International, Inc. of Seattle recently introduced three new capacities to its Force-5® Series of air winches that were originally introduced in 1985. The new V2-, 1-, and 10-ton winches, along with the original FA2, 5, and 7, now bring a full range of capacities to the industry.
Said to be the only all-steel winches suitable for worldwide use in temperatures as low as -30° C without modification, these new Beebe units are rated full drum with a 5:1 safety factor that provides assurance of continuous duty and power regardless of layer.
The Force-5 Series air winches are capable of precise load spotting through an optional oil bath disc brake that lasts virtually the life of the winch. All models are either fully type-approved or currently under review by the American Bureau of Shipping, Det norske Veritas, and Lloyd's Register of Shipping for general utility and Man-Rider® service.
Beebe sales and service are available worldwide.
BLUE STREAK Circle 14 on Reader Service Card A line of lightweight marine cranes said to offer heavier lift capacity, increased reliability, reduced maintenance, greater safety, longer component life, and smoother operation is available from Blue Streak Industries of Pearlington, Miss.
These pedestal-mounted, latticeboom cranes are designed for use on offshore rigs and platforms, workboats, and ships. The series includes units with lift capacities from 25 to 100 tons.
The improved capabilities are attributed to the use of computeraided design, a closed-loop hydraulic system, and the use of the highest quality components and equipment.
Closed-loop systems employ a continuous hydraulic loop from pump to motor to pump, which provides precise control similar to that provided by diesel-electric systems.
Prior to now, continuous-loop hydraulic systems were not in general use on cranes because of higher initial costs and purported greater maintenance expense. Blue Streak's experience in building and operating a large fleet of self-elevating liftboats utilizing both open- and closed-loop systems indicated that the latter could improve performance while reducing overall maintenance costs. The company's engineers overcame the higher costs by developing an improved oil filtration system that effectively removes contaminates from the lines, thus reducing maintenance and lost revenue due to vessel downtime.
After the closed-loop system had proven itself on self-elevating rigs weighing up to 325 tons, it was adapted for use on Blue Streak's latest cranes. The first production model, a 75-ton-capacity crane, has been working flawlessly on the Gulf Island V, one of the world's largest liftboats, since early last year.
While perfecting the closed-loop system, Blue Streak's engineers extended the service life of their cranes by using components not normally found on cranes of this type. Superior quality components such as Hagglunds high-torque, lowspeed motors, Rexroth pumps, and EEM controls are used. All units are designed and built for the corrosive offshore environment. They are protected from salt water by the use of galvenized metals, waterproof fittings, and marine coatings.
Blue Streak provides 24-hour service by the same technicians who build the cranes.
BRADEN Circle 15 on Reader Service Card Braden Cargo Gearmatic, winch divisions of PACCAR, a major supplier of performance-proven winches to the offshore and marine crane industry, have introduced two winches in their PD (Power Drum) series of hydraulic planetary winches.
The PD7A and PD12C (7,500 and 12,000 pounds rated capacity, respectively) feature highly efficient, computer-aided designed gear sets supported on anti-friction bearings that run in oil to minimize frictional losses and reduce downtime. Load control, when lowering, is maintained by the patented Braden brake valve known for its smooth performance and easy adaption to almost any hydraulic system. This brake valve is backed up by an internal, automatic multi-disc spring applied/hydraulically released safety brake. An over-running brake clutch permits free rotation through the brake while hoisting, but immediately locks when the hoisting operation is complete. The load is held firm even if the engine dies or a hydraulic line breaks.
Maximized commonality of parts in the PD Series winches, along with the PR Series swing drives, results in lower parts inventories to support marine crane service.
JERED BROWN Circle 16 on Reader Service Card Jered Brown Brothers is a major supplier of deck machinery and other marine equipment worldwide.
Products include anchor windlasses and capstans, non-magnetic minesweeper deck machinery, cranes, steering gears, elevator systems, main thrust bearings, and line shaft bearings. Jered equipment is specified on FFG 7, CG 47, LSD 41, LHD 1, MCM 1, T-AO 187, T-5, and CVN Class vessels and many other commercial ships.
In addition to providing equipment on new ship construction, Jered provides spare parts and maintenance on deck machinery in service. Jered has engineering drawings and parts for equipment manufactured by American Engineering.
C.H. Wheeler, Baldwin-Lima-Hamilton, and Jered Industries.
CATERPILLAR Circle 17 on Reader Service Card A new container-handler lift truck with a maximum capacity of 79,000 pounds at 48-inch load center has just been announced by Caterpillar Industrial Inc. of Mentor, Ohio, as subsidiary of Caterpillar Inc.
Like the Cat V800 and V925 container handlers, the new V900CH handles 20 to 40-foot boxes 8 to 9 Vi feet high, and stacks them up to four high. Like other Cat container handlers, the V900 incorporates components proven durable in Caterpillar earthmoving and mining equipment.
The V900CH is powered by the Caterpillar 3208T diesel, a 208-bhp turbocharged engine that has proven itself reliable in more than 300,000 applications worldwide. Its low-friction design provides economical fuel consumption, and its high torque rise provides power for quick acceleration and hydraulics.
Power train components used in their Cat equipment include the planetary power shift transmission and oil-cooled disc brakes. The four-speed forward and reverse transmission meets the varying load and travel conditions required in handling containers and other heavy, wide loads.
Oil-cooled disc brakes provide significantly more braking surface than standard show-type or dry caliper disc brakes. The brakes respond quickly and operate coolly.
Another Caterpillar exclusive is the integral steer axle/counterweight.
The entire rear section of the lift truck oscillates about the main frame, providing a low rear profile, good stability, high visibility, and a smooth ride.
The spacious cab features pilotoperated hydraulic controls for easy operation and precise control. The operator has optimum all-around visibility for maximum production.
The expandable container-handler spreader is backed by Caterpillar's extensive worldwide parts and service support. Fifteen Cat lift truck parts distribution centers and more than 340 dealer locations in the U.S. and Canada provide support.
CLYDE Circle 18 on Reader Service Card A division of AMCA International of Milwaukee, Clyde manufactures equipment for handling heavy components, mooring and vessel positioning systems, and bulk-handling stevedoring cranes.
A new Clyde product is an improved linear winch available with intermittent or continuous motion.
These hydraulically operated winches maintain a constant line pull and are very compact. Controls may be fully automated (programmable) or manual. They can accom- modate wire rope sizes from 1 to 12 inches.
Offshore applications include: large mooring systems where the linear winch must withstand the breaking strength of the wire rope; pipe pulling and J tube completion; precision lowering of large loads such as drilling templates, especially at great depths where cranes cannot reach; permanent mooring installations using 8- to 12-inch wire rope; offshore construction jobs; and other sites where large, rigid modules must be repositioned, rotated, or moved without being lifted. Other applications include pre-tensioning of anchors and documentation of the operation with the help of strip recorders.
In underwater pipe pulling, a French company positioned a Clyde linear winch under water where it pulled both a trenching plow and the pipe, following a pre-laid cable offshore, to the beach. This operation eliminated the need for a lay barge, cutting costs greatly.
For fabrication yard use, a new Gulf Coast project will utilize Clyde linear winch systems to facilitate the erection of large offshore jackets.
Previously, conventional cranes were used to accomplish the roll-ups and joining of jacking components.
The linear winches are said to provide a more economical method with precise control of all operations.
In Australia, Clyde linear winches will soon be used to guy an offshore structure. The winches will pull on 5-inch cable and generate a line pull of 1,700,000 pounds.
Clyde recently supplied a new concept, 5,000-ton-capacity shearleg derreck that can be skidmounted onto a barge and selferects/ de-erects. These features are said to make it ideal for shallow water operation and movement under bridges. It is a very economical lifting tool, and existing non-utilized barges can be employed.
For coal and grain handling, Clyde has cranes that are outfitted with high-speed hydraulic swing and a large diesel power package to produce extremely quick cycle times (approximately 50 seconds). The bucket gross loads vary from 40,000 to 120,000 pounds. They can be handled at a radius capable of reaching the center of a 125,000-dwt collier.
This reach capability is assisted by the unit's raised boom heel (in some cases more than 23 feet above the rotating deck), which allows clearance over the ship's coaming. Operators are further assisted by the high elevation of the operator's cab, allowing good visibility of both barge and ship's hold. Though barge-mounted, these cranes have been sold as stationary (tub mounted) or traveling (gantry mounted) units.
CONMACO Circle 19 on Reader Service Card Amcon air-controlled hoists are an exclusive with Conmaco, Inc. of Kansas City, Kan. The flagship of the line is the Amcon 6250, which handles up to 12,000 feet of 3-inch wire rope.
Another member of the 7-hoist Amcon lineup is the Amcon 150.
This versatile hoist will handle wire rope up to 1-inch and delivers up to 35,000 pounds of line pull. It has proved itself to be well-suited for anchor-handling applications on small vessels and supply boats, or for mooring small barges on inland waterways.
Conmaco also has introduced a line of deck-mounted fairleaders, each with the rugged construction to withstand the breaking strength of indicated wire rope. Bearings in the barrel and sheaves are engineered for long life and dependability, even under rapid or severe changes of lead.
New to the Amcon line of winches is the 20C hydraulic winch with a line pull of up to 40,000 pounds (1- inch wire rope) and spooling capacity of 1,434 feet. An important feature of this winch is that each drum is fitted with a friction clutch allowing the drums to "free wheel" independently.
In addition to a full line of aircontrolled winches, fairleads, deck guide sheaves, and chain handling equipment, Conmaco also offers rental, sales, and service on hydraulic continuous pull machines with CPL as high as 1.5 million pounds.
CROSBY GROUP Circle 20 on Reader Service Card A 180-page, full-color catalog is available from The Crosby Group, a Division of Amhoist, which is comprised of Laughlin®, Lebus®, McKissick, National, and Western.
The companies manufacture every conceivable kind of fitting and accessory for deck machinery, cargo handling and other applications, including forged fittings, hooks, blocks, sheaves, pulleys, load binders, chain, etc. The catalog describes all of the products of all divisions in full detail with photos, detailed drawings, all measurements, and full specification charts.
McKissick products, a division of the Crosby Group in Tulsa, Okla., now has new roll forged sheaves available in the most complete range of sizes from 12 through 72 inches. The sheaves are an ideal choice for original equipment in self-unloading systems and as replacements.
McKissick sheaves are forged from controlled quality 1035 carbon steel which provides excellent welding and flame hardening characteristics.
All incoming steel is tested by chemical and spectrographic methods to insure consistently high quality.
Steel sheaves have excellent flexibility when choosing bearings and also provide better cold weather properties than nylon sheaves.
Crosby links and rings are manufactured in a complete line of sizes and types for almost any application, with working load limits from 1,600 to 232,500 pounds.
Lebus products include lever and ratchet type load binders, grab hooks and tail chains, snatch blocks, and hook latch kits. McKissick specializes in custom designed blocks to any specification, oil field blocks, crane and hook blocks, overhaul balls, swivel hooks, and snatch blocks, as well as many other products.
Western manufactures sheaves and sleeves, wood and steel blocks, and cargo blocks and fittings, just part of its extensive product line.
National's product line includes steel swaging sleeves, duplex sleeves, swage buttons and furrules, as well as swaging presses in capacities from 500 to 3,000 tons.
EMMI-PUSNES Circle 21 on Reader Service Card Pusnes was founded in 1875 as a shipyard and started deck machinery production in 1890.
Today, Pusnes is one of the few companies in the world concentrating on the development and manufacture of all types of deck machinery for mooring systems used on a broad range of floating equipment.
When you board a 540,000-dwt ULCC you will find Pusnes steam deck machinery. Looking closer at the windlass on any of these large tankers you will notice up to 1,000- hp disc brakes used to drop the anchors under finger tip control.
Visit a semisubmersible on a drilling station and you will find Pusnes mooring systems for chain, chainwire combo, or all-wire and moored in depths up to 3,500 feet. Systems for greater depths and hostile environments are under development today.
Pusnes also manufactures mooring equipment for smaller coastal ships, barges, tugboats, off-shore supply boats, pipe-laying barges, and similar vessels.
Minimum crew and safety are Pusnes trademarks. The unique roto-bollard for mooring rope handling is a typical innovation.
Mooring systems for chain, cable, and rope employ steam, electric, or hydraulic drives. The equipment can be local or remotely controlled and, when necessary, the mooring forces constantly monitored.
Pusnes is part of "SUBTECH" Norway, a firm developing complete diving systems which employ diving bells, underwater vehicles, bell winch systems, divers gas recovery systems, external life support systems, and the "Hyperbaric" saturated divers lifeboat. Concern for offshore personnel resulted in the development of "Pudes," the controlled extendable protected gangway for dry evacuation.
Pusnes has a joint venture company in Japan, Nippon-Pusnes, and both are represented in the U.S. by EMMI Corporation of Flemington, N.J.
FMC/LINK BELT Circle 22 on Reader Service Card A 22-page full-color guide describing Link-Belt's crane and excavator line is being offered by FMC of Bannockburn, 111.
The guide discusses FMC's crane operations, engineering and research programs, and the manufacturing and testing programs for structures and components. Within each of eight categories of Link-Belt cranes, such as pedestal mounted hydraulic offshore cranes, is a model number and specifications. The specifications include capacity stated in tons and metric tons; capacity at 50-foot radius; maximum crane boom; main drum line pull/ line speed for three speeds; and overall length, width, and working weight.
FMC has added a 33-ton (29.93 mt) capacity API-65 to its Seahawk series of Link-Belt® hydraulic offshore cranes. The lightweight 25,000-pound API-65 is specially designed to perform all the material, equipment, and personnel lifting required on offshore oil production platforms and drilling rigs, and meets API-2C (1982) specifications.
The API-65 features pin-connected components that permit fast modular erection and easy maintenance.
The heaviest component weighs just 7,200 pounds. The compact design features a 7-foot 7-inch tailswing with onboard engine and cab, and an overall height of 14 feet 7 inches reducible to 8 feet.
A maximum API rating of 34,200 pounds is achieved with a 50-foot boom at 30-degree radius, best in its class. Superior load handling speed is provided by a matched engine, 3- section pump and winch combination that develops 300-450-fpm maximum line speed with 12,600- pounds maximum line pull on main or auxiliary drums. A horsepower limiter prevents engine stalling due to excessive loads.
FRITZ CULVER Circle 23 on Reader Service Card Fritz Culver, Inc. of Covington, La., manufactures a wide variety of deck machinery serving virtually every aspect of the marine market.
Established in 1979, the company enjoyed immediate success in the Gulf Coast area for designing and producing rugged, dependable equipment.
Typical products include anchor windlasses, capstans, tugger winches, stern rollers, cable/chain stops, cable reels, and anchor-handling and towing winches. All equipment, except the low-pressure, anchor- handling/towing winches are completely designed in-house. Culver is the U.S. licensee of A/S Hydraulik Brattvaag, which has a complete line of low-pressure deck machinery for cargo ships, fishing vessels, and offshore structures.
Culver has introduced an upgraded deck machinery line to meet the requirements of larger vessels being built to service and handle the deepwater drilling rigs. Included in this line are stern rollers, anchor windlasses, hydraulic tuggers, capstans, tow pins, cable/chain stops, and cable reels. For the most part, the basic design was not changed but the size of the components increased to facilitate handling of larger size wire and chain and the loads imposed by them.
A specialty product that is typical of the Culver line is the Remotely Operated Vehicle (ROV) winch used by the diving companies. It is a completely self-contained system for deploying and retrieving the unmanned submarines used for inspection, maintenance and construction of underwater components.
To date, Culver has delivered five "one-of-a-kind" units to the diving industry.
GEARMATIC Circle 24 on Reader Service Card With consolidation completed in 1985, Braden Cargo Gearmatic winch divisions of PACCAR continue to provide the marine industry with state-of-the-art, high-efficiency, hydraulic planetary winches.
The Gearmatic Model GH7 is an example of the new family of tested, proven, compact winches available as equal speed (pays in and hauls out at the same speed) and highspeed reverse (automatically pays out at three times the haul-in speed) models. Features such as the multiple- disc brake and the entire gear train supported by anti-friction bearings running in oil, are said to make this winch an excellent choice for all types of marine applications.
Other Gearmatic products for the marine industry include the 30 and 40 Series of planetary winches that offer a wide selection of cable drum configurations, gear ratios, and hydraulic motor sizes that adapt these winches to a wide range of applications.
Gearmatic hydraulic planetary winches are available with bare drum line pulls up to 44,000 pounds and line speeds up to 520 feet per minute. Ease of operation and maintenance will continue to be trademarks of Gearmatic, now with more than 40 years of quality winch manufacturing experience.
HAGGLUNDS Circle 25 on Reader Service Card AB Hagglund & Soner of Ornskoldsvik, Sweden, the world's biggest manufacturer of deck cranes, has together with its licensees delivered more than 5,000 cranes during the past 25 years. This market leadership was enhanced recently with the introduction of new cargo-handling aids that offer even better productivity.
Development of Hagglunds deck cranes has proceeded steadily from the small three-tonners first delivered in the early 1960s to today's advanced 50-ton cranes with outreach sufficient for the biggest ships, and automated cargo-handling aids. However, the accent is not solely on increased capacity.
The range of the slimline L Type introduced about two years ago was recently extended to encompass fast single-wire units for SWLs down to eight tons.
The range offered by Hagglunds is the most extensive on the market, extending from eight to 50 tons SWL. Types for cargo handling are now as follows: L-l cranes, 8-30 tons, for very fast cargo handling (line speed in excess of 164 feet per minute), particularly suitable for smaller types of vessels.
L-2 cranes, 36-40 tons, specially suitable for container handling. Has compact installed dimensions for maximum container capacity onboard, yet all machinery is fully enclosed and access is internal.
G-2 cranes, 25-50 tons, are the world's most popular deck cranes, used for both bulk and unit cargoes.
K-4 cranes, SWL 25 tons, are bulk cargo cranes for use with grabs.
Reinforced, high-output units are built for 24-hour operation.
Twin cranes—Types L-l, L-2, and G-2 can be installed in pairs for optional operation as a single crane with doubled capacity.
Hagglunds' technology is most appreciated where conditions are most severe. The cranes have been widely adopted for use in Arctic environments, a field in which the company has gained wide experience, with units now working in temperatures as low as —58° F.
Dynamic load situations encountered in cargo handling in the open sea represent another area in which Hagglunds has special expertise.
The development of a range of offshore cranes was a natural application of this experience.
Hagglunds Drives Division offers advanced concepts in hydraulic drive systems for deck machinery in the marine and offshore industries.
Besides winch systems of all types, Hagglunds hydraulic motors of the low-speed, high-torque type are employed in platform jacking systems, pipelaying equipment, and vessel propulsion systems.
HARNISCHFEGER Circle 26 on Reader Service Card The Construction Equipment Division of the Harnischfeger Corporation in Cedar Rapids, Iowa, offers the Model 2080 planetary winch, with unique CAD/CAM optimizeddesign features. This winch is said to be suited for inland marine applications such as dredges, cargo winches, or lock mules, as well as standard marine uses such as offshore drilling platforms, commercial fishing rigs, and cargo handling.
The unit features high-strength castings, including a one-piece frame with dual tie-bar supports.
This special Harnischfeger engineered design promotes precise component alignment and provides rigid, lightweight drum support. It also helps minimize deflection under load and prevents binding of the drive train.
The winch is designed primarily for use with 3/4-inch wire rope with the following ratings: 3/4-inch rope at 3.5 to 1 rope safety factor and 23 + PD/d, with 1,154 feet of rope capacity on seven working layers; 7/8-inch rope at 5 to 1 rope safety factor and 20 + PD/d, with 848 feet of rope capacity on six working layers. The maximum first layer line pull is rated at 24,000 pounds with first layer line speeds greater than 250 feet per minute.
The winch's brake is located on the drive shaft opposite the hydraulic motor where it is not subject to the fatigue cycles of lifting and lowering loads. This improves reliability of the braking system and allows easier brake servicing.
To verify brake reliability, the Model 2080 was cycle-tested through one million actuations at the Technical Center. Post-test evaluation of the unit showed no signs of slippage, leaks, fatigue cracks, heat discoloration or significant wear.
HATLAPA Circle 27 on Reader Service Card Established in 1919 at Uetersen, about 18 miles north of Hamburg, Hatlapa Uetersener Maschinenfabrik GmbH now manufactures products exclusively for the maritime industry. Exports account for about 60 percent of production, and Hatlapa has a worldwide network of service stations. The company is represented in the U.S. by Arnessen Corporation.
Technical development at Hatlapa has been directed into five major product categories: deck machinery, compressors, evaporators, steering gears, and transverse thrusters. The idea of five products from one source is said to allow shipyards to cut costs during the planning and installation phase.
A considerable share of Hatlapa's production comprises ship-moving and cargo-handling deck machinery, the greater part of which involves ship-moving deck machinery under the categories of anchoring and mooring equipment consisting of windlasses, capstans, automatic and non-automatic winches, combined windlasses and mooring winches, anchor capstans, towing winches, and anchor-handling/towing winches.
Recent developments include an 8-ton anchor/mooring winch mounted on a compact bedplate on which the hydraulic pump sets are installed. This eliminates extensive piping from hydraulic pump sets installed below deck to deck winches.
All winch functions can be controlled remotely from the bridge as well as the winch. The windlass is combined with a roller chain stopper for 50-mm stud link chain. This unit allows an automatically controlled lowering of the anchor at a constant speed.
Also new in Hatlapa's production program are the freshwater evaporators of the Atlas Bremen type designed for freshwater production of 3.9 tons per day. The range of evaporators offered by Hatlapa provides a daily capacity of up to 100 tons.
The company's series of 4-cylinder, ram-type steering gears with built-in rudder carrier has been extended.
The new type R4L 380 steering gear is designed for a rudder stock diameter of 160-380 mm having a split type rudder carrier, easily accessible for servicing.
To supplement its series of 3- stage, air-cooled compressors, Hatlapa has introduced the new type L75/L95 for capacities of 60-110 cubic meters per hour.
In the face of increasing competition in the shipbuilding industry, Hatlapa supports shipyards and owners by fast and detailed submitting of bids, using word processing for preparation of individual offers.
HIAB CRANES Circle 28 on Reader Service Card With its exceptional freedom of movement provided by the "knuckleboom" principle, the 110 Sea Crane from HIAB Cranes & Loaders, Inc. of New Castle, Del., has proven very successful on a number of documented cargo- and materialhandling applications. These cranes are currently in worldwide use on many types of tugs, supply vessels, icebreakers, dredges, barges, research vessels, buoy- and light-tending boats, firefighting vessels, diving support craft, and oil pollution recovery boats.
When compared with stiff-boom cranes and derricks, the knuckleboom crane is said to offer a wide range of desirable features for shipboard use including precise load handling, extra capacity and reduced reach, total overload protection, minimal storage and mounting space, and an abundant work area coverage.
Because of the flexible elbow or "knuckle," the HIAB 110 crane has a low operating height. This feature prevents the crane from interfering or entangling with the vessel's rigging or other overhead obstructions.
The simple but effective design, the sophisticated use of corrosion-resistant materials in its construction, and the high-pressure hydraulic system makes the 110 crane lighter in weight than conventional cargohandling units; this weight difference also permits a bigger cargo payload.
Designed specifically for use in the saltwater environment, the HIAB 110 is constructed with galvanized components, waterproof fittings, nickel/chrome-plated boom cylinders, and is protected further with special marine coatings for maximum corrosion resistance.
Compact in design and extremely maneuverable, the 110 can be operated by one man.
The crane also incorporates a proprietary one-piece control valve that provides smooth, responsive, and exact crane movements. Pilot-controlled check valves inside the control valve hold the boom and load dead still in position, even over extended time periods. The HIAB 110 also features built-in protection against overloading and line failure.
Every valve function has pressurerelief valves that prevent lifting should the load be too heavy. Hosefailure valves on the inner and outer boom clyinders immediately arrest the lowering movements if any of the lines should fail.
A.C. HOYLE Circle 29 on Reader Service Card The A.C. Hoyle Company of Iron Mountain, Mich., has been a major supplier of deck machinery to the marine industry for about a quarter of a century. The company offers a complete line of deck equipment including anchor windlasses, constant- tension mooring winches, topping and vang winches, towing winches, fairleads, chocks, and bitts to both the naval and commercial marine markets.
Hoyle was awarded the 14-ship minesweeper contract to supply all of the sweep deck machinery, including the hydraulic power units, magnetic cable reels, minesweep acoustic cable reels, and the magnetic cable reels, along with two stern cranes for each of the MCM ships.
Though equipment can be built to numerous standard designs, the company specializes in custom building to customer specifications.
Hoyle personnel are available to assist customers from preliminary design stages through final design, installation, and testing. Major considerations are given to providing the best equipment available to meet customer requirements at affordable and competitive prices.
Winches, windlasses, capstans, and cranes are available with allelectric, electrohydraulic, hydraulic, static DC, or diesel drives. All deck equipment, including fittings is available in conventional steel construction as well as in stainless steel and aluminum. The company offers new technology in weight-saving designs, materials, and performance.
Non-magnetic deck machinery has now been introduced to the Hoyle product line under the Navy's Mine Countermeasure (MCM) ship program. Also, a new design of haulage winch is scheduled for delivery to the Army Corps of Engineers for installation at nine locks on the Mississippi River.
HYDE PRODUCTS Circle 30 on Reader Service Card Hyde Products, Inc. is a leading supplier of ship's deck machinery and steering gears, serving the marine industry since 1865. Originally founded as the Hyde Windlass Company in Bath, Maine, Hyde today is headquartered in Cleveland.
Equipment offered by Hyde includes complete steering systems, vertical and horizontal anchor windlasses, constant-tension mooring winches, cargo winches, special-purpose winches, capstans, mooring chocks, special pump systems, oil/ water separators, and oil spill recovery equipment. While Hyde has a standard product line, custom-designed machinery is its specialty.
Hyde equipment is installed on hundreds of naval, commercial, and fishing vessels, as well as on workboats and barges operating in the U.S. and throughout the world.
In addition to equipment manufacturing, Hyde offers replacement parts and service capabilities, and maintains complete microfilm files of original equipment drawings to provide replacement parts that exactly match original specifications.
Hyde also offers deck machinery overhaul and refurbishing services.
Experienced service personnel perform installations, repair, and overhaul work worldwide.
Hyde now offers replacement parts, service, and upgrades for Pine Tree Engineering Company-manufactured equipment as well, including anchor windlasses, capstans, and constant-tension mooring winches.
Pine Tree designed and built equipment for a variety of vessels, notably the LASH and Seabee ships.
Among Hyde's more recently completed contracts are several received from the Korean Navy and Korean shipyards for steering systems, anchor windlasses, and capstans for a total of 19 frigates, corvettes, and other naval vessels. The steering systems supplied for 12 ROK corvettes included an electronic control system, eliminating the conventional differential control system. Hyde is currently supplying 10 additional shipsets of corvette steering systems and deck machinery through a Korean licensee.
Hyde is manufacturing the anchor windlasses and several types of refueling-at-sea winches for the amphibious assault ship Wasp (LHD- 1) being built at Ingalls Shipbuilding for the U.S. Navy, and is actively involved in many other U.S. Navy and commercial projects, including upgrading steering systems to meet the new IMO redundancy requirements.
HYSTER Circle 31 on Reader Service Card Hyster Company of Danville, 111., recently expanded its electric truck line with the addition of two counterbalanced models featuring a stand-up, end control design—the E30AR and E40AR lift trucks offering 3,000- and 4,000-pound lifting capacities, respectively. Threewheel design helps these rear standdrive trucks maneuver where space is limited.
These new lift trucks are designed for a variety of applications, and are suitable for handling metal prod- ucts, p a p e r products, motor vehicle parts, and other loads within their lifting capacity.
Features of the new E30-40AR trucks include: hydraulically powered steering for easy maneuvering in limited space; front wheel drive for excellent traction and maneuvering in tight spaces; an electronic control system that provides responsive acceleration, smooth forward/ reverse directional change and electronic backing by using a single control handle; a choice of a twostage freelift, or three-stage upright with lift heights up to 225 inches— all three upright configurations are designed to provide optimum operator visibility; operator compartment positioned off-center for improved visibility; a park brake that automatically engages when the operator's foot is raised from the pedal or when the operator leaves the vehicle; and easy service access through rear and top panels.
Hyster Company's network of industrial truck dealers, with more than 200 locations across the U.S.
and Canada, offers these trucks with a variety of flexible financing packages.
INTERCON Circle 32 on Reader Service Card Intercontinental Engineering- Manufacturing Corporation of Kansas City, Mo., (INTERCON) is a diverse engineering and manufacturing organization with established product lines in marine winches, hoists, custom drives and controls, marine cranes, and dredging machinery.
INTERCON winches are sold and serviced worldwide for towing, mooring, and anchor-handling applications.
Ocean tugboat winches range in capacity from 50,000 to 500,000 pounds; single- or multipledrum configurations are sized for wire ranging from 1-inch to 3-inch diameter. Tug/supply boat winch packages include controlled-drop chain handlers, single-lever anchor drum control, towing pins, and stern rollers.
The company's exclusive watercooled brakes with solid-state control are proved in handling anchors in ocean depths of more than 2,500 feet. Workboat deck machinery also includes a full line of windlasses and capstans ranging from 10 to 50 hp.
During the past 25 years, INTERCON has outfitted many of the world's pipelay and derrick barges with mooring systems, A&R constant- tension winches, and powered hose reels. Single line-pull capacity exceeds 900,000 pounds on the heavier winches for semisubmersible mooring service. Electric DC drives of up to 3,000 hp, including power supplies, are a specialty.
Marine cranes for shipboard and dock service are produced in various configurations, with hook capacities ranging up to 200 tons. Current contracts include six 36-ton twin cranes for cargo handling on U.S. Navy Auxiliary Crane Ships (T-ACS).
Manufacturing facilities in Kansas City encompass 125,000 square feet dedicated to fabrication, heavy machining, and assembly. Modern CNC machine tools include new horizontal boring mills with 60-foot travel capacity, 20-foot vertical lathes, and 40-foot planer mills.
Shop and dock cranes with 200-ton capacity allow rail or barge shipment of completely assembled products.
New CAD/CAM systems complement INTERCON's design and manufacturing services for the offshore industry.
ALMON A. JOHNSON Circle 33 on Reader Service Card A family-owned business incorporated in 1942, Almon A. Johnson, Inc. of Elizabeth, N.J., is well known in the marine industry. The company specializes in the design and manufacture of automatic towing machines and mooring winches. Its towing machine is said to be the only one on the market with fully automatic features. The company's constant-tension mooring winch is recognized by the industry for its unsurpassed dependability.
Design drawings for these units, as well as for the full line of deck auxiliaries manufactured by the company over the years, are maintained for the benefit of Johnson customers. A service organization is readily available. The company recently serviced a steering gear manufactured in 1938 that is still in operation.
The U.S. Navy specified the Johnson Series 322 automatic towing machine and the Series 400 traction winch for the four ARS-50 Class vessels being built by Peterson Builders in Sturgeon Bay, Wise.
These Rescue and Salvage Ships will be deployed for a variety of missions, including towing, diving, heavy lift, rescue, and other assistance work.
LIEBHERR Circle 34 on Reader Service Card To insure compliance with modern handling and lifting equipment requirements, Liebherr-Werk Nenzing GesmbH in Austria has been working with cargo-handling companies, shipping lines, and shipbuilders in recent years to develop a series of cranes matched to the specific operating requirements of such companies.
During the design stages, particular attention was paid to the full range of applications, ease of maintenance, and economy and high reliability for operation aboard ship.
For river and seagoing ships with a limited, fixed-point height, the crane type BW-S was developed.
Until now, the restricted installation height on such vessels had prohibited operation of on-board cranes. The Liebherr BW-S folding crane has an installed height of only 650 mm when folded (stowed).
These cranes are available with lifting capacities of 3-15 metric tons, and a radius of up to 49 feet. They have their own drive assembly and can be installed on hatch covers, on side-mounted columns, and inside hatches.
For seagoing ships with a beam of up to about 60 feet, the crane type is designated BW-SM. These loading cranes are of slim, low-height design, and feature a boom that pivots above the cab so that the operator has an unobstructed view of the work area. They have load capacities of 5-35 tons and radii of up to 72 feet. Among the special features of these cranes are their small external dimensions, achieved despite installation of the access ladder inside the tower. Containers spotted around the bottom section of the crane can still be loaded and unloaded in any order.
Crane type B-SM is designed for seagoing ships of all sizes. These cranes feature a tried and tested hydraulic ram luffing system. One of the advantages of this system is positive boom guidance, even at minimum radii. Both standard width and SM versions are available; maximum installed width of the SM version is just under 8 feet.
The lifting capacity of these cranes, installed as single or twin deck cranes, is between 15 and 40 metric tons. Single cranes of SM design are available at up to 80-tons rating, and in the standard width, up to 120 tons. With reduced lifting capacity, these cranes can be operated at a radius of up to 111.5 feet.
An alternative to the B-SM cranes is Liebherr's B-HP versions.
This crane is designed for operation on ships with restricted headroom; overall installed height has been reduced by altering the boom pivot design. A further advantage of this design is the crane's lower overall center of gravity at any height. Lifting capacities and outreach of the cranes in this series are the same as for the B-SM versions.
MacGREGOR-NAVIRE Circle 35 on Reader Service Card Formed following the acquisition of MacGregor International by Kone Oy, of Finland, which already owned Navire Cargo Gear International, this new company is a major force in the area of cargo access equipment and systems.
Both partners have developed numerous designs of specialized equipment including, in the area of deck machinery, all manner of hatch covers.
The range of covers designed vary from units for the largest bulk, OBO, and ore/oil carriers down to the smallest inland waterway vessel.
Recent innovations for folding covers on medium-sized vessels have included the self-engaging auto cleat and the gravity cover.
The self-engaging auto cleat system uses angular interlocks, or wedges, on the cover side/coaming and at the cross joints to form the cleats. It has been incorporated in the "Direct Pull," "Foldtite," and "Foldlink" cover designs.
The entry into service of Atlantic Container Line's container-roll-on/ roll-off (CONRO) vessel Atlantic Companion also marked the introduction of the first full outfit of Mac- Gregor-Navire's StackCell weatherdeck cell guide system. The new ship was built by Kockums for the account of Transatlantic AB, one of the three Swedish partners in the ACL consortium.
MacGregor-Navire lists the advantages of the new StackCell system as follows: • Increased number of fully loaded containers that can be loaded in one stack.
• Wide flexibility in container stowing distribution.
• No loose lashing, twist locks, or joining cones required.
• Elimination of any manual lashing.
• Risk of accidents minimized.
• No need for checking or retightening of lashing during sea voyage.
• Quicker placing or "spotting" of containers.
• Handling operations can start without any preparation or unlashing work.
• No waiting for intermediate lashing or work after completion.
• Easy and safe access to reefer containers.
These considerable advantages have been achieved after much preliminary design work and prototype testing carried out by the efforts and expertise of ACL, TransConsultants, and MacGregor-Navire.
The most obvious vessel that would gain maximum advantage from weatherdeck cell guides is the fully cellular containership. Other applications envisaged by MacGregor- Navire include the feeder ship, the bulk/container carrier, the open bulk carrier, and the whole spectrum of CONRO, RO/RO, and RO/ LO designs.
MANITEX Circle 36 on Reader Service Card Manitex Inc., a subsidiary of The Manitowoc Company, Inc., designs, manufactures, and markets pedestal- mounted box-boom and latticeboom cranes at a modern, two-plant facility near McAllen, Texas.
Ideally suited for dockside, marine, land-based, or pedestalmounted applications, Manitex Sea- Cranes are constructed of marinequality components, with complete material traceability available upon request. In addition, each crane features a versatile modular design to permit fast servicing and easy changeability of components from model to model.
The present family of Manitex SeaCranes includes four box-boom models: the 15-ton-capacity MB- 300; the 25-ton-capacity MB-600; the 40-ton-capacity MB-1200; and the 60-ton-capacity MB-2400.
Manitex complements its boxboom cranes by offering six latticeboom models, all available with full weather enclosures to permit operation in harsh environments. Current lattice-boom models include: the 25- ton-capacity ML-600; 45-ton-capacity ML-1200; 55-ton-capacity ML- 2400; 75-ton-capacity ML-4800; and the 150-ton-capacity ML-9600. In addition, Manitex recently developed its 200-ton-capacity ML- 14400, which is scheduled for delivery to a major offshore drilling company in the near future.
SeaCranes exceed the stringent operating codes established by the API, Lloyd's, DnV, NMD, and ABS.
Other advantages and features include all-modular designs, full 360- degree swing capability, auxiliary winch systems, single- and doubletaper box booms, on-board and remote control systems, on-board and remote power units, anti-two-clock systems, and variable-height gantry arrangements. In addition, Manitex's worldwide distributor network provides complete parts and service availability 24 hours a day, seven days a week.
MARATHON Circle 37 on Reader Service Card Marathon LeTourneau Company's line of port handling equipment is in operation around the world.
The line includes the rubber-tired Model 2582CH, a top-pick sideporter that lifts and carries 20- and 40- foot containers. The Model 2682SS (solid-state) sideporter handles both containers and trailers, and the SST-100 solid-state, single-beam straddle hoist handles both 20- and 40-foot containers.
This straddle hoist can span up to six rows of containers stacked three high, with room to pass another container over the top. All Marathon LeTourneau port equipment is powered by the company's dependable diesel-electric drive system.
MARCO Circle 38 on Reader Service Card In addition to improvements made to existing products, Marco of Seattle introduced three new pieces of fishing deck machinery recently.
First was a new aluminum longline drum, used in a variety of longline fisheries on both coasts of the U.S.
and Canada, as well as in other areas of the world. The hydraulically powered drum features gear drive that makes it powerful enough that no secondary hauler is required. The new unit also features a diamondscrew levelwind and a unique declutching motor and adjustable drag brake to control freewheeling speed.
Marco's San Diego-based subsidiary, Campbell Industries, recently introduced a long-needed product for the world's high-seas tuna purse seine fisheries. Its new purse block for large superseiners is larger and yet 50 percent lighter, as 210 pounds (95 kg), than any other block of its capacity (20T/18mt).
This new, stronger block features a spring-loaded grease reservoir to automatically maintain lubrication under load, eliminating the problem of bearing failure due to inadequate lubrication. The design also handles 1-inch (25-mm) connecting links through its throat, which are necessary to handle the heavier loads on 7/8-inch (22 mm) purse lines with 1- inch center piece.
The most recent introduction by Marco was its unique line of Foam- Flo fish pumping systems. Designed to meet the particular needs of the salmon and herring fisheries, the FoamFlo was developed with its chief goal being fish quality. The challenge has been to develop a pump that could handle great quantities of product, and yet treat both small and large species without damage. With its unique combination of injected water and air creating flow, FoamFlo answers this important challenge.
MARKEY Circle 39 on Reader Service Card Markey Machinery Company's marine equipment production for 1985 reflected the generally limited activity of the entire industry. Development work on larger anchorhandling and towing winches anticipates the mooring in deeper waters that is coming.
Large catcher/processor fishing vessels are requiring heavier winch equipment than the standard U.S.
and imported units. And oceanographers are seeking larger and more sophisticated winches with microprocessor- based instrumentation to increase data-gathering productivity and payload protection.
Although further adjustments appear likely, these areas as well as spot requirements for robust deck machinery with low life-cycle costs are helping to bridge the gap.
McELROY MACHINE Circle 40 on Reader Service Card McElroy Machine & Manufacturing Company of Gulfport, Miss., already actively manufacturing marine deck equipment for the commercial fishing and offshore support industries, is now venturing into government equipment manufacturing, as well as specialized commercial requirements. Presently, several contracts for the Department of Defense are being completed, which are for diesel-driven, double-drum winches of several sizes. Contracts with the Army Corps of Engineers and the Coast Guard have been completed recently, as well as an oceanographic winch for Johns Hopkins University.
The commercial fishing industry has seen McElroy supplying equipment for large catcher/processors, and an upswing in the standard Gulf of Mexico type trawlers. Also, a brisk overseas business for commercial fishing equipment has developed.
The trend in commercial workboats has shifted to specialized vessels requiring purpose-designed equipment. These vessels include dredges, diving support craft, linehandling tugs, landing craft, fireboats, as well as cruise ships and ferries.
Each of these types has its own specific requirements, and McElroy has met each of the requirements in stride. Examples of this specialty equipment include a fiber optic cable- laying reel for AT&T and a refueling-at-sea hose reel for the Argentine Navy.
This diversity has allowed McElroy to continue to grow and remain successful in these changing times.
MORGAN CRANE Circle 4 1 on Reader Service Card Long established as a worldwide leader in the manufacture of articulating hydraulic cranes, HIABFOCO of Sweden now offers a full line of its Sea Cranes with American Bureau of Shipping certification.
Available through HIAB Master Distributor Morgan Crane Company of Santa Ana, Calif., these cranes come equipped with any number of job-specified options. Fully equipped rental packages on selected models are also available from Morgan Crane.
Design criteria based upon the crane code DIN 15018/B3 has earned HIAB cranes several type approvals from Det norske Veritas and Lloyd's Register of Shipping.
Now shipowners, naval architects, and other equipment specifiers can take advantage of HIAB safety, performance, and durability in applications requiring ABS certification.
With five basic models, the Sea Crane is a hybrid of the more than 250,000 cranes delivered by HIAB during the past 35 years. Engineered for demanding offshore industries standards, features include stainless steel hose fittings, nickel/ chrome plated cylinder rods, and special two-pack marine coatings.
The ultra-durable HIAB 30 Sea Crane has galvanized and painted boom sections, as well as stainless rods and pins. Compact and lightweight, with a low center of gravity, Sea Cranes display extremely smooth and precise operation without sacrificing speed. By manufacturing its own cylinders and valves, HIAB maintains strict quality control over its products.
Morgan Crane Company provides comprehensive service support including technical assistance at customer locations worldwide.
NABRICO Circle 42 on Reader Service Card An all-new hand winch specially designed for use on barges and towboats, and for other winch applications where significant holding capacity is required, is the latest innovation in deck fittings from Nashville Bridge Company (NABRICO) of Nashville, Tenn.
Of all-steel construction, the mini-profile design winch has a 40- ton holding capacity. In addition, both right- and left-hand models are available, promoting increased safety for the operator. A feature of the winch that should make it especially attractive to the marine industry is the accompanying "D" ring that allows the unit to be swivelled a full 180 degrees, providing a significant degree of maneuverability.
Gears, side plates, ratchet, and shaft are precision-machined to insure proper gear tooth engagement and minimize wear. Large bronze bushings with grease fittings on all shafts add to the useful life and dependable service of the winch.
The new hand winch utilizes many features of the original NABRICO hand winch, including a quick-release action, a handwheel for fast take-up, and a foot brake for run-out control. In addition, many parts for the new winch are interchangeable with parts for other NABRICO winches, making repair or replacement easier, and all parts are available from Nashville Bridge Company or many of its distributors.
Addition of this mini-profile hand winch is said to make NABRICO the only full-line manufacturer of deck fittings in the industry, and it is a complement to their existing line of hand, hydra-electric and electric winches, hatch covers, kevels, bitts, buttons, and other products.
NABRICO is a wholly owned subsidiary of The American Ship Building Company of Tampa, Fla. The company has been in the marine field for more than 70 years, and offers a complete line of deck hardware for towboats, barges, and terminals serving the marine industry.
With plants in Nashville and Ashland City, Tenn., NABRICO is a major supplier of marine deck hardware to the entire industry. The company pioneered in the design and construction of much of the modern equipment used on the inland waterways today.
NATIONAL CRANE Circle 43 on Reader Service Card For medium- to heavy-duty lifting jobs afloat or ashore, National Crane Corporation's Marine Lifting System provides a choice of pedestal- mounted, telescoping hydraulic cranes and accessories that will complete any task quickly and efficiently.
National marine cranes are a familiar sight on ships and fishing vessels, on docks and offshore platforms, at oil terminals, and in many other marine applications. The wide selection of boom lengths and lifting capacities, combined with the quality engineering features standard on all models, has made them suitable for any saltwater application.
The choices start with the economical Marine 200, and range upward through the 400A, 600A, and 800A series. The 200, with a rated capacity of 10,700 pounds and 28- foot hydraulic boom is suitable for use on smaller boats and barges, for general-purpose dockside and terminal work, and on offshore platforms.
For medium duty, there is the 400A, with 16,000 pounds rated capacity and 55-foot boom; its dependability has made it a workhorse of fishing fleets. The 600A fills the medium- to heavy-duty range with its 25,000-pound maximum lift and 66-foot boom.
With 35,000 pounds rated capacity and 75-foot, four-section hydraulic boom, the Marine 800B has become a favorite for heavy-duty lifting where long reaches are required.
Its extra-solid construction means more time on the job and less downtime, even under extreme duty.
Regardless of size, all National marine cranes share design features to boost reliability and performance.
Maximum strength and capacity are achieved through the use of computer-aided box section boom design. The boom sections are built of four high-strength, low-alloy members. Weight is cut without sacrificing strength by use of thicker top and bottom plates. The lowhydrogen welds on corner seams are ultrasonically tested for proper penetration.
The boom extends sequentially, an advance National introduced to the industry. Mechanical, not hydraulic, locks provide greater reliability without wasting hydraulic power.
Full marine conditioning is standard on National telescoping cranes. External surfaces are sand blasted, coated with inorganic zinc primer, painted, and covered with a durable chlorinated rubber topcoat.
Interior surfaces are primed and painted to help prevent corrosion.
All lift cylinder rods and boom pivot pins are stainless steel to withstand saltwater and chemical environments.
Continuous welds are used wherever possible to prevent corrosion in crevices.
These marine cranes, like all National telescoping cranes, are equipped with standard anti-two-blocking systems to prevent crane damage.
Precision rack-and-pinion turret rotation is standard on the Marine 200, while the larger models use planetary rotation gearboxes.
NATIONAL SUPPLY Circle 44 on Reader Service Card A cargo-handling barge designed to accept a National Supply Company continuous lift jacking system enables the operator to readily convert the barge into a stable platform for loading and unloading. The barge uses a rack-and-pinion jacking system originally developed by National for offshore drilling and production platforms.
With the legs jacked up, the barge retains its mobility and can be easily towed between sites. Once in location, the barge is jacked up to create a stable platform at various deck levels. The jacking system, which has a smooth, continuous lifting movement, uses an arrangement of horizontally opposed pairs of pinions that provide positive engagement with a preeision-cut, doublesided rack.
The National jacking system has been used in 18 different rig designs and is offered by more than 30 shipyards around the world. Literature available from National contains specifications for various unit arrangements, tensile properties for its components, and a description of other features, including pushbutton control operation and various safety features.
Individual leg control is accomplished at a central console, where the operator can operate all legs individually or simultaneously, with mixed hull-up and hull-down operations.
Each climbing pinion has an individual gear motor and gear train drive, with each motor having an electromagnetic-released, springset, fail-safe multi-disc brake.
NAUTILUS CRANE Circle 45 on Reader Service Card Nautilus Crane & Equipment Corporation, headquartered in Reserve, La., has completed fabrication and testing of one of the most unique offshore cranes ever designed.
This Model 380L lattice boom crane has an 80-ton capacity and is mounted on the Nautilus Model 300P rolling gantry platform.
The 380L can traverse the platform on two separate and perpendicular sets of longitudinal beams, and has the special capability to move from one set of beams to the other. This permits the single crane to accomplish tasks that would normally require two or more separate cranes.
The crane is capable of traveling with loads along the beams at the rate of 40 feet per minute. Positioning of the rolling gantry requires that the operator simply switch the hydraulic system from the propel to the hoisting operation. During a lifting operation, the rolling gantry cannot be moved (release of rolling gantry propel lever automatically slows travel and sets brakes). The primary and secondary retaining rollers are always engaged, and all crane functions are operative while the gantry is stopped.
The 380L is powered by an onboard Caterpillar diesel engine. A multi-pump drive is directly cou- pled to the engine and provides all hydraulic power requirements. In addition, the power unit is equipped with a 120-volt, 5-kw alternator and an air compressor to make the package completely self-contained.
NEUHAUS Circle 46 on Reader Service Card J.D. Neuhaus Hebezeuge GmbH & Company of Witten-Heven, West Germany, manufactures a full line of pneumatic hoists, trolleys, monorails, and mechancial hoists with lifting capacities of up to 100 tons.
These hoists, which were developed in close cooperation with the users, are said to offer advantages that can solve lifting problems quickly and economically, particularly in the shipbuilding industry, above or below deck, and in the offshore sector.
JDN pneumatic hoists, the standard models, are suitable for application in areas where there is danger of explosion. Should increased explosion protection be required, such as on offshore platforms, the hoist can be provided with higher sparking protection. This includes galvanized chain, copper-coated load hook, and brass safety catch. In trolleys, wheels and gear wheel drive can be provided in bronze.
In comparison to their lifting capacity, JDN pneumatic hoists are light and easily transportable, robust; insensitive to steam, smoke, humidity, and extreme temperatures; need little maintenance, and are simple to operate. Lifting and lowering speeds can be regulated by rope controls. All these JDN hoist characteristics are valued by users in more than 90 countries.
PACECO Circle 47 on Reader Service Card The continued growth of containerization has resulted in the demand for container-stacking gantry cranes with increased speeds as well as higher stacking capabilities. To satisfy this need, Paceco, Inc. of Gulfport, Miss., a pioneer in the development of such cranes for more than 25 years, has introduced a Hi-Lift/High-Speed version of its standard rubber-tired Transtainer™ crane.
The new crane is capable of hoisting 20-foot and 40-foot containers weighing up to 30 long tons, 25 percent faster than previous designs. In addition, the 74-foot span crane's lifting height has been increased by 9 feet to accommodate a stack of 9 V2 -foot tall containers five high and six wide. This is a full tier higher than the industry standard and effectively increases the size of the container yard storage area by 25 percent.
Other significant features include a 5-foot wider wheel span (or track) to improve stability, air conditioning in the cab, and a ground-to-cab intercom system. The diesel-powered generator system has also been improved with the addition of a turbocharger to the standard blower induction system.
The first two of the new cranes were delivered recently to Terminal Island, Berths 229 and 233, at the Port of Los Angeles. These cranes are owned by Overseas Shipping Company and Metropolitan Stevedoring Company, respectively.
Paceco manufactured the world's first high-speed, dockside, ship-toshore container-handling crane in 1958. Today there are more than 300 Paceco-designed Portainer® cranes in operation throughout the world.
A new generation of Portainer cranes will be appearing during the next few years, just in time to service the latest generation of very large containerships. Outreach will increase to 155 from 135-145 feet; clearance under the spreader will jump from 80 to nearly 100 feet; and rail gauges of 100 feet will become standard to accommodate more traffic on the dock.
A world leader in the design and manufacture of container-handling equipment, Paceco is a subsidiary of the Fruehauf Corporation.
PETTIBONE Circle 48 on Reader Service Card Pettibone Corporation of Chicago manufactures a full line of pedestalmounted Marine Kranes for use on docks and offshore platforms, as well as on shipboard. Capacities range from 5 to 100 tons. Hydraulically extendible knuckleboom and fixed booms, both box and lattice, are available. With special features such as inorganic paint to withstand salt-laden, corrosive environments, they are built to provide years of trouble-free service.
Pettibone has been building and improving cranes for the marine industry since 1964, so built-in features are the result of more than 20 years of design work. Today, as part of a continuing research and development program, the company has a list simulator for safety testing of cranes manufactured for shipboard applications.
The Solus vessel Tengar, one of a fleet that services Royal Dutch Shell offshore drilling platforms in the South China Sea off the coast of Borneo, is equipped with a model 40 PMp Pettibone Marine Krane.
Mounted on the main deck forward of the hatch, the 40 PMp provides needed reach with a 110-foot boom and 360-degree rotation. Its remote power pack is installed below deck, and controls are within easy reach of the operator, whose cab provides full view of the work area. Like all Pettibone pedestal cranes, the PMp 40 is available with American Bureau of Shipping certification.
RAYTHEON OCEAN SYSTEMS Circle 49 on Reader Service Card Raytheon Ocean Systems Company of East Providence, R.I., manufactures the Loadmax® multi-point digital loading computer that is designed to aid ships' officers in planning safe, optimum vessel loading.
The front panel display of the desktop unit is readily configured for any type ship. Information on draft, stability, and hull stresses for any loading condition can be calculated quickly and accurately.
Several models are available according to need. The Loadmax 100 computer performs draft, shear force, and bending moment calculations, and is intended for carriers where stability computations may not be required.
The model 200 unit performs stability calculations, as well as those for draft and hull strength. Special programs are available for LNG and LPG ships, integrated tug/barge units, and containerships.
The Loadmax 300 computer provides for cargo specific gravity entry, cargo volume entry with automatic conversion to weight, and automatic variable VCG and free surface corrections for carrying levels in cargo, ballast, and fuel oil tanks.
For integrated tug/barge systems, the Raytheon computer can provide calculations for tug alone, barge alone, and tug/barge joined.
RECO Circle 50 on Reader Service Card Reco Marine Crane, a division of Reco Crane Company of New Orleans, has added a "Low Profile" crane to its standard line of fixed and telescoping hydraulic box boom cranes. This new crane, which stands only 30 inches high and has up to 7.5 tons of lifting capacity, is designed to accommodate the height restrictions of cellar and heliport decks on offshore rigs and platforms.
Several major oil companies have already taken delivery of more than eight cranes each to replace existing mechanical cranes at a lower cost than could be achieved by retrofitting their old mechanical cranes to hydraulics.
REEL-O-MATIC Circle 51 on Reader Service Card Reel-O-Matic Systems Inc., of Wrightsville, Pa., offers a variety of machinery to the marine industry.
One of the most popular pieces of equipment is the series CPD or custom power drum. This unit is constructed of a fabricated steel drum mounted in bearings with various drive styles available. These machines are built to customer requirements for size and capacity.
The CPD is designed primarily for storage and winching of cables and lines in marine usage.
A special weather-proofing package for shipboard environment is also available. This package includes stainless steel shafting, totally enclosed motors and controls, sealed bearings, and galvanized undercoating with rubberized paint.
These same corrosion-preventive measures can be applied to any of Reel-O-Matic's equipment that have applications throughout the marine industry.
Another frequently used piece of equipment is the RS/VS series of shafted stationary coiling and reeling machines. These units can be bolted or welded to the deck of a ship to pull any flexible material onto a reel or coil. The RS/VS is offered with various drive configurations to suit any particular need.
Reel-O-Matic's H.J/KVS series mobile reeling and coiling machine also is often used aboard ship because it has all of the outstanding features of the RS/VS and, in addition, it is mobile. A configuration of locking wheels and swivel casters allows this machine to be easily moved from job to job.
SALZGITTER/KOCKS Circle 52 on Reader Service Card Having established itself as a designer and constructor of container cranes for seaports, the Kocks Crane and Marine Company (KCM) of Pittsburgh, Pa., has concluded an agreement with one of the Salzgitter Group of companies for supplying all of its bulk materials handling products for the U.S. market. The new venture will be identified as Salzgitter-Kocks Bulk Systems and will operate as a division of KCM.
Market areas being looked at are seaports, inland terminals, utilities, and general bulk commodities terminals including cement and grain industries. The company's diverse product line includes every conceivable material handling and storage system . . . pneumatics, belt conveyors, mining, ship loading/unloading, indoor storage, and stacking and reclaiming.
Other equipment available from Salzgitter-Kocks includes a complete line of bulk handling equipment including stackers, stackerreclaimers, scraper reclaimers, clamshell, pneumatic, continuous ship and barge unloaders, buckets, grabs, and coal blending systems.
The company has expertise in the handling and processing of lignite, coal, potash, cement, alumina, silica, phosphate, and other commodities.
Design, supply, and construction is available for equipment and facilities.
SCHOELLHORN-ALBRECHT Circle 53 on Reader Service Card The Schoellhorn-Albrecht Division of St. Louis Ship manufactures the 1824 family of deck capstans that have been in service for more than 40 years. These capstans have fully normalized and stress-relieved cast steel barrels and right-angle worm gear housing. They are driven through a structural-framemounted, spur-gear-reduced, rightangled worm gear drive. The worm drive operates in a continuous oil bath, and the bronze bushings have pressurized grease fittings.
Primary power is provided by a 30-hp marine electric motor fitted with a 120-percent torque capacity magnetic disc brake.
The 1824 capstan is designed to provide 10,000 pounds of pull at 55 feet per minute, and 20,000 pounds at 28 fpm. Ultimate pull is 55,000 pounds, with an ultimate static holding capacity of 100,000 pounds.
Other deck capstans with barrels of 14 to 24 inches, driven electrically, pneumatically, or hydraulically, are available. Also featured in a new brochure available from Schoellhorn is a smaller, totally redesigned capstan/carpuller. These surfacemounted units, designed for less severe marine and industrial applications, are available with operating capacity from 5,000 to 15,000 pounds at 30/50 feet per minute, SMATCO Circle 54 on Reader Service Card The SMATCO, Inc. Division of TBW Industries of Houma, La., supplied complete shipsets of Norwinch low-pressure hydraulic deck equipment for two anchor-handling/ tug/supply vessels built by Halter Marine for Penrod Drilling of Dallas. The two 225-foot, 12,280- bhp vessels are being used primarily for long-distance towing of semisubmersible rigs, and other towing and anchor-handling tasks.
The Kodiak I and Kodiak II are each equipped with one 4S-250-2T 250-ton waterfall hydraulic anchorhandling/ towing winch. This unit is powered by four Norwinch lowpressure hydraulic motors, and is arranged to enable either of the drums to provide full pulling power.
Both drums can provide half pulling power simultaneously, and they can be operated independently of each other in either direction of rotation.
This system gives the advantage of allowing a controlled maximum load on the lines, preset by the operator.
The winch is also equipped with a Norwinch high-power, hy- draulic dynamic braking system, which provides control of speed and pull.
Also on board is a type S-50-1T 30-ton hydraulic anchor winch type bow windlass. This unit is powered by one Norwinch low-pressure hydraulic motor, and consists of a declutchable drum, a declutchable cable lifter for 38-mm chain, and two fixed warping heads. The vessels also have two hydraulic tugger winches, type MV-12. In addition, each vessel has two hydraulic capstans, type C-9.
SMITH BERGER Circle 55 on Reader Service Card Smith Berger Marine, Inc. of Seattle has been named the exclusive U.S. Master Distributor for a major line of hydraulic cranes designed for marine service. After careful analysis of the many hydraulic cranes available, the company has decided that only the Effer Crane has the level of quality workmanship necessary to be sold under the Berger name.
More than 35 models of Effer Cranes with a capacity range from 3 to 40 tons, and in knuckleboom, telescoping boom, or fixed boom configurations will be available from distributors throughout the U.S., with service, parts, and warranty backed by Smith Berger. Hydraulic winches, power packs, mountings, and other accessories will be supplied by SBM from its Seattle facility.
The cranes are a logical addition to the company's product line, which includes the well-known Berger fairleaders, roller chocks, bitts, bollards, guide sheaves, chain wheels, stoppers, and other quality parts for demanding marine service.
SBM is a major supplier of special underwater fairleaders for offshore service. Its engineers work directly with shipyards and naval architects in the design and development of large fairleaders for deepwater oil exploration. Recent developments include fairleaders for 5-inch anchor chain with pocketed sheaves more than 9 feet in diameter, and fairleaders with "sealed-for-life" antifriction bearings for service above or below water level.
A full line of stern rollers, towing pin assemblies, and pop-up pins rounds out the marine equipment.
These units are especially adaptable to retrofitting or upgrading tugs and workboats.
Smith Berger Marine operates a fully approved, quality assurance manufacturing facility in Seattle, and is able to meet military standards on fairleads, chain wheels, scuttles, hatch covers, or other military requirements.
STANSPEC Circle 56 on Reader Service Card Stanspec Corporation of Cleveland recently announced the development of its Reliable line of cus- tom-built, completely automated, no-operator, computer-controlled bulk material handling cranes for heavy industrial applications. This crane was designed for scale pit operations in steel mills, and for handling bulk chemicals, cryogenic waste materials, cement, and virtually any other heavy bulk material.
The crane can be controlled from ground level, or remotely from the mill's main process computer. A ground-level microprocessor is programmed for all on-board logic, and is also tied via modem to the main process computer.
The Reliable line of cranes offers these features: Hoist bucket holding and hoist bucket closing lines are controlled by state-of-the-art, microprocessorbased, DC adjustable-voltage controller.
Dependable mill motors are employed for hoist drives.
Travel drives are standard, reversing- plugging, AC magnetics using resolvers to position crane bridge for digging and discharge.
Field programming capability to establish multiple location, digging and discharge points for material loading and unloading.
Scoreboard-type readout to pinpoint locations that have already been cleaned and those to go.
Built-in logic that prevents digging at previously emptied location.
SUPERIOR • LIDGERWOOD • MUNDY Circle 57 on Reader Service Card Lidgerwood Manufacturing Company of New York was established in 1873 as a continuation of the Speedwell Iron Works of Morristown, N.J. From its standard hoisting equipment, Lidgerwood evolved marine winches.
These were produced extensively for steam power and later were adapted to electric applications.
Capstans, anchor windlasses, and marine winches still continue to be a source of pride to Lidgerwood, which has stood the test of time.
The company offers a full range of well-illustrated literature that details the capabilities, special features, and specifications of its line of marine equipment. Included are marine equipment such as integrated barge moving systems; carpullers; capstans; steam hoists; trawling winches; towing winches; mooring bits and winches; cargo winches; gasoline, diesel, or electric hoists; anchor hoists; crane, dock, hatch-cover, and dredge hoists, and windlasses.
range of winches that will handle up to 21/2-inch wire rope.
Timberland has designed and manufactured powered winches for more than 25 years for the construction, mining, and marine industries.
Recently they have expanded the product line to serve a wider range of winch applications for mooring, anchoring, and positioning of service vessels.
UNIT CRANE Circle 59 on Reader Service Card Unit Crane & Shovel Corporation of New Berlin, Wise., manufactures a series of hydraulic Unit Mariner pedestal-mounted marine cranes that meet 1983 American Petroleum Institute specifications covering offshore cranes.
The latest Mariner line offers lift capacities of 27,000, 36,000, and 55,000 pounds, with basic boom lengths at a 30-foot radius. Modular assembly is said to provide fast assembly and easily accessible servicing. A variety of hydraulic winches is available to meet specific load capacities and line speed requirements.
(continued) TIMBERLAND Circle 58 on Reader Service Card Timberland Equipment Limited of Woodstock, Ontario, now offers a Canadian-built choice in mooring and anchoring systems with a wide range of winches that will handle up to 21/2-inch wire rope.
Timberland has designed and manufactured powered winches for more than 25 years for the construction, mining, and marine industries.
Recently they have expanded the product line to serve a wider range of winch applications for mooring, anchoring, and positioning of service vessels.
UNIT CRANE Circle 59 on Reader Service Card Unit Crane & Shovel Corporation of New Berlin, Wise., manufactures a series of hydraulic Unit Mariner pedestal-mounted marine cranes that meet 1983 American Petroleum Institute specifications covering offshore cranes.
The latest Mariner line offers lift capacities of 27,000, 36,000, and 55,000 pounds, with basic boom lengths at a 30-foot radius. Modular assembly is said to provide fast assembly and easily accessible servicing. A variety of hydraulic winches is available to meet specific load capacities and line speed requirements.
An exclusive Power Demand hydraulic system, powered by diesel or electric prime movers, automatically matches hydraulic working pressures and horsepower to load requirements. Deck configurations include remote or onboard power, walk-around control, or fully enclosed cab.
WASHINGTON CHAIN Circle 60 on Reader Service Card A new machine from Washington Chain & Supply Inc. of Seattle offers an easy, hydraulically powered method for wire rope socketing.
Marketed under the name Cab-LMate, the machine provides a oneman process for positioning wire rope into a socket.
The machine is offered in two versions.
Model 101 accommodates wire rope up to 2 inches thick and operates with dies in Vi -inch increments.
The larger model 201 handles wire rope from 2 to 4V4 inches; dies for the 201 are made to special order only. Both machines are hydraulically operated with manual control valves.
WASHINGTON CRANES Circle 61 on Reader Service Card Washington Cranes of Seattle, a division of Ederer, Inc., offers a new generation of revolving cranes said to have increased reliability, lower maintenance, and more efficient operation due to the greatest possible capacity for a given size.
Typical of the line is the 150-ton revolver installed at Todd's Seattle yard. Advanced design concepts incorporated in that crane include Ederer DC adjustable voltage controls for all motions, all-electric operation, and a high-efficiency operator's cab. The crane has all independent hoists, each with its own solidstate control.
All gearing is in totally enclosed oil baths, and all hoist machinery is gear-driven. These new cranes have unique travel trucks, with each drive motor driving one wheel. This design allows increased load on existing tracks. The diesel generator house is located over the portal to isolate noise, lower the center of gravity, and improve accessibility.
The main hook lifting capacity of the Todd crane is 150 tons at a 55- foot radius, and 50 tons at 120 feet.
The auxiliary hook lifts 15 tons at all radii from 61 to 210 feet. Main hook speed is 12 feet per minute, auxiliary is 100 fpm. The boom can be fully elevated from the lowered position in three minutes.
WILDEN PUMP Circle 62 on Reader Service Card Wilden Pump and Engineering Company of Colton, Calif., has announced the "Supersaver." Every new Wilden pump incorporates a redesigned, state-of-the-art air distribution system that provides up to 13 percent greater pumping capacity and reduced air consumption averaging more than 10 percent across the entire performance range. This redesigned system focuses on optimizing air flow, aerodynamically tuning ports and passageways to minimize turbulence and drag, reducing internal energy losses, and maximizing energy transfer to the fluid being pumped.
The operating principles and basic structure of the Wilden valve, which has provided the highest level of reliability for more than 25 years, remains unchanged. Wilden has simply made one of the best a little better by re-engineering components unrelated to the critical shifting functions that make the air valve superior to many other valve systems. The ability of the valve to deliver high reliability operating on typically "dirty" plant air or against a stall, or in intermittent service at minimum air supply pressures remains unchanged.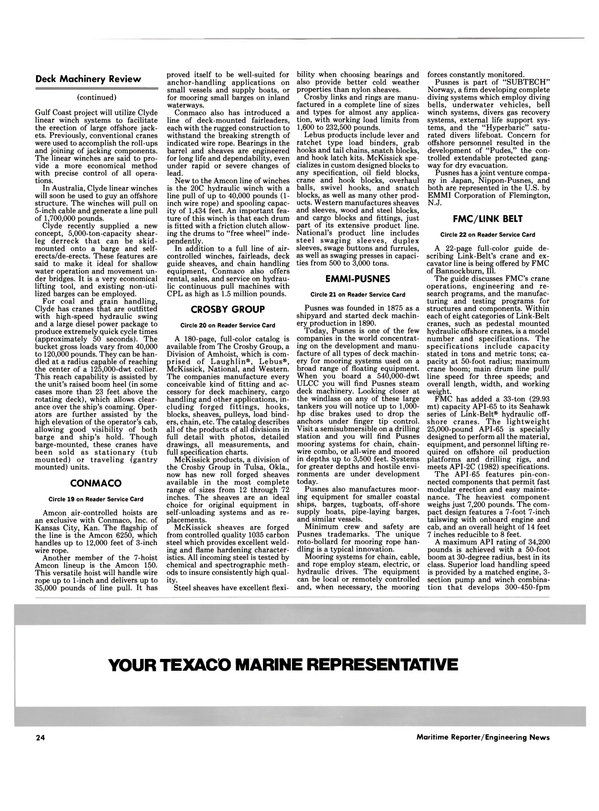 Read Deck Machinery Ana Cargo-Handling Equipment — A Review— in Pdf, Flash or Html5 edition of October 1986 Maritime Reporter
Other stories from October 1986 issue
Content