FISH EXPO '89 October 18-21, Seattle, Washington
A record number of visitors and exhibitors are expected to turn out for Fish Expo '89, one of the world's largest commercial fishing expositions, when it is held at the Seattle Center in Seattle, Wash., from October 18-21, 1989.
For the first time in its 23-year history, the show will utilize five buildings at the Seattle Center.
Sales and marketing director Stephen McDonough, said,"This is the first time exhibits have filled five buildings. We knew we were going to use the Coliseum, the Flag Pavilion, the Exhibition Hall, and the Northwest Rooms, but now the demand is so high, we've added the NASA building. In the early eighties, during the height of the king crab boom, the show used four buildings. This show is going to be even bigger." Early visitor pre-registration figures indicate that records will be broken for visitor attendance as well. The last time Fish Expo was held in Seattle, two years ago, 23,000 visitors attended the show.
Mr. McDonough expects the show will draw around 25,000 visitors this year.
What attracts so many industry professionals is the reputation Fish Expo has gained as being the best place for commercial fishermen to see and buy the latest in commercial fishing equipment and gear. Manufacturers and suppliers of vessels, engines, electronics, deck machinery, refrigeration equipment, life and safety equipment, financial services, insurance, and other products and services will exhibit to the commercial fishermen and industry professionals.
Along with the opportunity for the visitor to see the latest product or service, it is also an excellent opportunity for commercial fishermen to see how changes in the industry may affect them during the many seminars held at Fish Expo.
Produced by the editors and staff of National Fisherman, the seminars deal with topics crucial to fishing professionals.
In 1987, many of the seminars were presented to standing-roomonly crowds, and this year's topics are sure to be just as interesting.
One seminar will deal with lessons learned from the Valdez oil spill. In this session, scientists, seafood marketers and environmental experts will examine several aspects of the disaster, including the future of Prince William Sound and how to prevent future spills. Other seminars include targeting by catch and a look at limited entry in groundfisheries.
Because of the packed schedule of seminars and nearly 1,000 exhibit booths in five buildings, people visiting Fish Expo '89 should plan on spending two or more days at the show. Visitors should also make their hotel reservations early since hotel space is at a premium.
Fish Expo '89 is sponsored by National Fisherman magazine and produced by National Fisherman Expositions, Inc. For more information on the exhibition, seminars, travel or hotels, contact: National Fisherman Expositions at 5 Milk Street, P.O. Box 7437 DTS, Portland, Maine 04112; telephone: (207) 772-3005; telefax: (207) 772-5059; and telex: 322721 NATFISHEXP O .
Scheduled Seminars Wednesday, October 18 10:30 a.m.—"Space, Satellites and Fishermen." 1 p.m.—"Limiting Entry in Groundfisheries." 3 p.m.—"Fish Farming: What's in it for Me?" Thursday, October 19 10:30 a.m.—"Countering the Politics of Sport Fishing." 1 p.m.—"Living with the Exxon Valdez Oil Spill." 3 p.m.—"New Rules on Marine Mammals." Friday, October 21 10:30 a.m.—"Trawl-Mounted Electronics." 1 p.m.—"The Onshore/Offshore Allocation Issue." 3 p.m.—"Jets, Turbines and High Tech Power." Saturday, October 21 10:30 a.m.—"The Bycatch Pie & Full Utilization." 1 p.m.—"Offshore Driftnets Bad Press for Fishermen." Also, the Women's Fisheries Network and Fish Expo will be sponsoring "Trawl Crawl: A Run for the Halibut," on Saturday, October 21.
The event will be held at the Fishermen's Memorial at 9 a.m. For more information, contact the Women's Fisheries Network at (206) 742- 2810.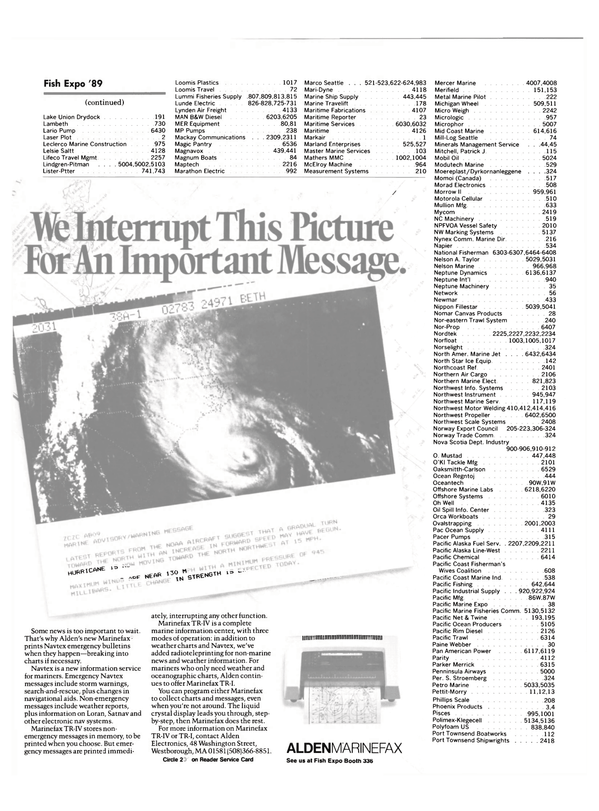 Read FISH EXPO '89 October 18-21, Seattle, Washington in Pdf, Flash or Html5 edition of October 1989 Maritime Reporter
Other stories from October 1989 issue
Content