U.S. Tank Barge Market Report
Since January 2000 there has been a decrease in the total number of inland tank barges listed for sale. Prices for inland tank barges have increased an average of 10 percent over last year for barges under 10,000 bbl capacity.
Barges over 10,000 bbl have increased about 14 percent. Asking prices for inland barges in general are ranging around $14-24 per barrels for working units with most sales ranging from $10 - $15/ bbl depending on condition and age. Most of the inland barges for sale are single skin units averaging about 37 years in age with the oldest being built in 1941.
Prices for ocean tank barges under 20,000 bbl have increased an average of 13.3 percent over the year 2000, while prices for larger size units have remained relatively stable. Most of these are single skin. Although there are few U.S. flag ocean tank barges currently listed, values seem to be ranging about $30 - $40/bbl for good tonnage with life remaining before their OPA 90 retirement dates. Most of the newer barges for sale, with one exception, are foreign-flagged, single skin and located in the Far East.
New Contracts Halter Marine, Inc., has signed a contract with Vessel Management Services, Inc., of Seattle, Wash., for the construction of a 150,000-bbl, oceangoing, double- hulled articulated tug-barge (ATB), with options for up to five additional units. The barges will be built at Halter's Port Bienville shipyard in Pearlington, Miss., and the tugs at its Moss Point Marine shipyard, in Escatawpa, Miss.
Maritrans Operating Partners has obtained a patent on its process for rebuilding single hull tank vessels with internal double hulls. Together with the Houston-based naval architecture firm Schuller & Allan, Maritrans developed a double-hull manufacturing process to rebuild single-hulled tank vessels with the double hulls required by OPA 90.
The process uses computer-assisted design for fabricating modular internal hull sections. In 1998, Maritrans completed the rebuilding of the 10,549-gt tank barge Maritrans 192 (formerly Ocean 192), which was the first large single hull tank vessel rebuilt with a double hull to meet OPA's standards. In 2000, Maritrans completed rebuilding 16,021 GRT tank barge Maritrans 244 (formerly Ocean 244). Both vessels, now in compliance with OPA 90, are in service transporting petroleum products in the Gulf of Mexico. Maritrans' patent now grants Maritrans the right to exclude others from practicing its protected protected process. Stephen A. Van Dyck, chairman and CEO commented, "Maritrans' reputation as an industry leader is confirmed by our substantial financial investment into the initial rebuild process design and in the Maritrans 192 pilot project. By obtaining patent protection for our internal rebuilding process, we believe we will be able to protect the competitive advantage we have gained through our hard work and innovation.
Our second vessel rebuild is now complete, and we will continue our efforts to rebuild our fleet to meet OPA's mandate.
Module fabrication is already underway for the barge Ocean Cities, which is due to enter the shipyard this spring." Barges for Sale Marcon International, Inc. has been appointed as exclusive brokers by Louisiana-Pacific Corporation, parent company of Ketchikan Pulp Company of Ketchikan, Alaska to sell the double skin OPA 90 ocean tank/rail car barge Harry A. Merlo. The 9,000-dwt, ABSclassed barge was built in 1994 by Gulf Coast Fabricators at a cost of about $8.4 million to supply fuel oil, chemicals and other materials for pulp processing and lumber mill operations in Southeastern Alaska. The barge was designed by Elliott Bay Design Group of Seattle, Wash. Black oil, diesel and caustic soda was carried north in the integral cargo tanks plus smaller parcels of chemicals and stocks were hauled in tank and hopper cars loaded on deck. On the southbound run, boxcars were loaded with pulp. In 1997, the mill was closed because it needed about $200 million in environmental upgrades and other improvements and the barge became surplus to Owner's requirements.
The 35,000-bbl ocean tank barge Caribbean Protector has been added to Crowley Marine's surplus list and Marcon has signed a new contract to act as their exclusive broker in handling sales of floating marine equipment. The 250 x 76 x 17-ft. (76.2 x 23.1 x 5.1 m) barge was originally built in 1969 by Todd Shipyard in Texas and was converted to dedicated oil spill response in 1993.
Barge is now laid up in Mobile, Alabama.
— (Source: Marcon)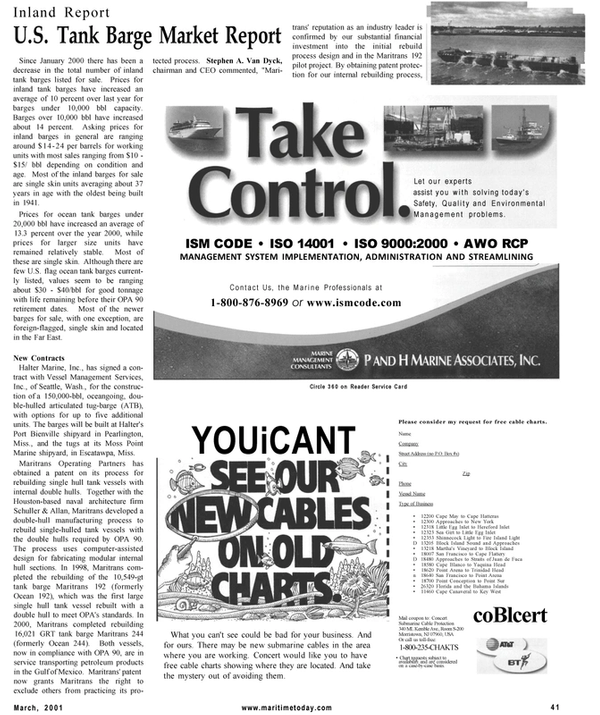 Read U.S. Tank Barge Market Report in Pdf, Flash or Html5 edition of March 2001 Maritime Reporter
Other stories from March 2001 issue
Content