Q&A with Hermidas Atabeyki, Paris, Designer of the M - 1 47
Q: What makes the M-147 so unique?
A : It goes without saying that part of the uniqueness of the M-147 is due to its grandeur and aesthetic beauty. It would have been easy to rest at that however. I did not set out to create another beautiful boat with good design except on a larger scale. For me it was primarily a question of rethinking the whole concept of living on board. I envisaged a certain way of life in my head and tried to put that down on paper. So throughout the creative process it was not only a question of how good I make it look, but even more importantly how can it better and how can it contribute to the life and pleasure of those on board. It is this lifestyle concept behind the design that makes the M-147 so unique. And that was the challenge which I think was overcome and accomplished pretty well.
Q: What aspects and currents in modern thinking inspired you to design this yacht? What design elements incorporate these modern aspects, for example?
A: I did not really follow any modern trends in design per se other than to adhere to the fundamental design distinctive to boats. I firmly believe that 'good' design must necessarily reflect the function and utility of the end product.
Without a functioning and utile concept behind it, a product, whether a car, boat or object, cannot withstand the test of time based on aesthetics alone. What is fashionable now becomes outdated very quickly. So my intention from the beginning was to design something that would not only look good 10. 20. 50 years from now, but also function equally well. Following this thinking, I utilized classic geometric forms throughout the vessel while making maximum use of space and volume. Nothing was designed haphazardly, but with the specific intention of how best to optimize each person's experience on board.
Q: Your basic design concept for the yacht provides for various spatial elements such as loggias, balconies, oriels, and sun-decks rather than the traditional long, continuous ship's decks. What are you aiming to achieve here in terms of the atmosphere on board the yacht and the feelings that the passenger experiences?
A: In keeping with the lifestyle concept, the goal was to imagine every possible scenario owners and guests would want to experience on board and to make that a reality. In doing so, I paid particular attention to ensure each person's privacy. For example, guests and owners have the option of enjoying the outdoors in complete privacy should they choose to do so as each cabin is fitted with a private sundeck. On the loggia one can enjoy the outdoors without being directly exposed to the elements.
Other unique features include a helicopter deck designed to allow three helicopters to be stored, maintained and refuled out of sight via descending elevators; a port housing a 12-person submarine which can descend directly into the water completely undetected so as to ensure maximum privacy; and a sundeck equipped with a bar and fully adjustable canopies which can even be lowered to completely cover the bar area and its contents during high speed cruising.
So it was really a question of providing various options and flexibility for those on board without constraints. It would have been foolish to follow traditional interior and exterior layouts (ie.
narrow and long ship decks surrounding a central living area) for a vessel of this magnitude. That same feeling of grandeur that the M-147 exudes from the outside must be felt on board as well.
Another goal was to create a different rhythm of life on each deck and that is why each deck has its own personality and mood — the living and dining areas are on one deck, the cabins on another deck, the leisure areas such as the salon and disco on yet another.
Q: The stern cabin provides a 270- degree panoramic view with which you give passengers a feeling of infinite distances.
and which will have its greatest effect when she is leaving port. What was your intention here?
A: Again, the intention was to create a scenario, an atmosphere of eased luxury yet maximum impact — to be able to entertain guests in a grand living room and walk leisurely through an unusually expansive open air loggia into a circular dining room with 270 degree unobstructed views no matter where one is seated - that is all part of the fantasy and enchantment of entertaining on this level. To heighten the drama, I ensured that the glass panels surrounding the dining room could be easily opened up so that you can experience the sensation of dining on the water virtually without any enclosure. This same dramatic impact is also evident in the main entrance where you can immediately observe not only all the decks above but also the bottom of an immense glass swimming pool, a technically challenging feat to accomplish in itself. Whether during the day with the sun shining through it or whether at night with the interior pool lights lit. each scenario is equally dazzling and impressive.
Q: One special feature of the M-147 is the loggia, which runs from the saloon and dining room across the whole width of the yacht. Is this area designed to form a counterpoint to the various parts of the deck? How do you think it will be used?
A: The loggia is in fact one of the distinguishing features of the M-147 and one of the most flexible. It can serve as a transition between the living and dining areas, it can be used as a main, less formal entertaining area and it can be used as a social gathering point. It provides you with an area where you can actually sit inside yet continue to feel as if you are outdoors or it can be completely enclosed due to the movable glass panels. I think the loggia will be the one common area which will be utilized and enjoyed the most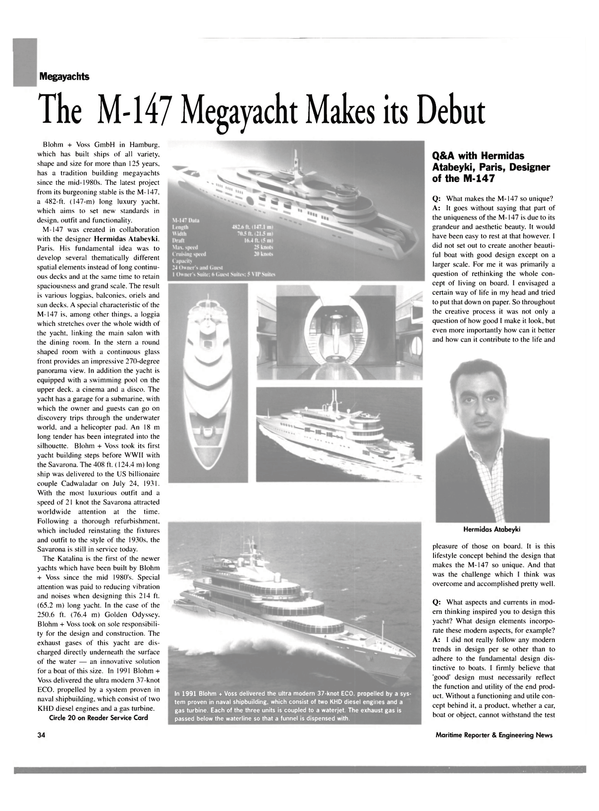 Read Q&A with Hermidas Atabeyki, Paris, Designer of the M - 1 47 in Pdf, Flash or Html5 edition of October 2004 Maritime Reporter
Other stories from October 2004 issue
Content