Adances in Marine Coatings & Corrosion Control
Maritime Reporter & Engineering News
Keeping hulls and equipment ship shape, coatings play critical role in vessel efficiency, economy
The advance of modern marine coatings and related technologies is not unlike other technical sectors of the maritime industry, primarily driven by emerging regulation from the international, national and regional level, usually in regard to environmental concern.
But in recent years, an increased focus on the reduction of marine emissions in tandem with the capability to more directly correlate clean, well-maintained hulls with reduced fuel consumption and lower emissions has driven the industry further faster, as coatings manufacturers globally strive for new formulations designed to apply easier, wear longer and ultimately become an indispensible tool in the vessel owner's arsenal to run cleaner, more efficient vessels.

The Coatings
Late last year Hempel launched Hemparea 55973, a fast-drying anticorrosive coating suitable for C3 corrosive environments with a cure time of just one hour. Its quick dry time, along with a single-coat combination of primer and topcoat, increases line-speeds for heavy machinery by at least 50% in comparison to standard two and three coat systems, the manufacturer claims, helping to complete the coating process in a timelier, more cost-efficient manner.
New to the market are International Paint's two latest antifouling coatings, Intercept 8000 LPP and Intersleek 1100SR. Intercept 8000 LPP, is a biocidal linear polishing polymer antifouling featuring patented Lubyon technology that is designed to deliver predictable long term performance for in-service periods up to 90 months, International reports, and Intersleek 1100SR, is a biocide free fouling control coating featuring slime release technology that combats micro fouling on ships hulls, maintaining performance throughout the docking cycle
Lubyon polymer technology (found in Intercept 8000) aims to give the coating a 'superhydrophilic' surface. International explains, when the coating is immersed, the seawater has a lubricating effect, resulting in less friction, thus reducing drag and increasing vessel efficiency to give average fuel consumption and associated emissions savings of 5% annually compared to typical controlled depletion polymer antifoulings.
Intersleek 1100SR, reported to be the shipping industry's first biocide free, fluoropolymer technology that tackles the 'slime challenge.' According to a recent formula produced by Michael P. Schultz, Professor, Department of Naval Architecture & Ocean Engineering, US Naval Academy, at today's bunker prices, the effects of slime potentially costs the shipping industry 44 million extra tons of bunker fuel, $28.6 billion in additional fuel costs and an extra 134 million tons of CO2 emissions every year. Designed for all commercial vessels, even when slow or ultra slow steaming, Intersleek1100SR slime release technology is designed to deliver macro and micro fouling control with static resistance even in warm waters.
Sigma Ecofleet 690 is designed to provide high performance antifouling for short sea and coastal shipping, the newest addition to the Sigma Ecofleet range which provides predictable antifouling protection at variable operating speeds in aggressive fouling environments. Developed specifically for the dry dock, maintenance and repair market, Sigma Ecofleet 690 has been formulated using PPG's unique patented binder technology ensuring consistent performance levels and fouling control for in-service periods of up to 60 months.
Fully compliant with the IMO AFS Convention, the product is suitable for a wide range of vessel types and contains an ultra-high volume solids content of 70% - thus reducing potential VOC emissions. Sigma Ecofleet 690 has been formulated to be easy to apply, increasing productivity and reducing overall maintenance costs.
Funded by the U.S. Office of Naval Research and the Materials Research Science and Engineering Center, Duke University engineers have produced a hull coating that dislodges bacteria with the application of an electrical current, thus avoiding the use of bacteria-killing paints which can contain heavy metals or other toxic chemicals that might harm fish or other sea life. The material works by physically moving at the microscopic level, knocking away bacteria. "We have developed a material that 'wrinkles,' or changes its surface in response to a stimulus, such as stretching or pressure or electricity," said Duke engineer Xuanhe Zhao, assistant professor in Duke's Pratt School of Engineering. "This deformation can effectively detach biofilms and other organisms that have accumulated on the surface."
Micanti, a Holland-based maritime technology company, introduced an environmentally friendly antifouling option called Thorn-D. A nontoxic adhesive foil used in place of environmentally contaminating chemical coatings, Thorn-D has a textured surface that prevents marine growth from attaching to the hull. "The basic thought behind Thorn-D is that a combination of prickliness and swaying of Thorn-D fibers makes the surface unattractive for organisms," said Micanti founder, Dr. Rick Breur, in a recent press release. "The technology provides a physical barrier in the shape of specific short fibers for organisms such as mussels, barnacles and algae to settle."
Also declaring reduced application costs, Sherwin-Williams launched Macropoxy 80, a high-build HAPs-free epoxy formulated for application over marginally prepared steel substrates and damp surfaces, lessening the need for costly surface preparations. The coating combats corrosion from both immersion and atmospheric exposures and can be applied at temperatures as low as 0°F. Because of its surface tolerance, Macropoxy 80 can be applied in adverse conditions, and steel substrates need only to be cleaned of loose paint or rust per SSPC SP2-3 Hand and Power Tool Cleaning before application. Its high solids formulation (80%) reduces the likelihood of the solvent entrapment that can lead to premature coating failure. In addition to being HAPS-free, Macropoxy 80 is low-VOC (<250 g/L).
GuardLine LTC (Low Temperature Cure), a new cargo tank coating from Advanced Polymer Coatings, is an ambient-cure coating (in the range of 77°F) used on chemical, product and barge tankers to transport a range of liquid cargos. GuardLine LTC only requires a low temperature cure, generating cost savings by eliminating the extra step of a high temperature forced hot air heat cure, which is crucial for the high chemical resistance of the MarineLine 784 system used for chemical tankers and their more hazardous cargos.
APC also claims its LTC coating offers greater versatility and chemical resistance and requires less cleaning because it is virtually absorbent-free, giving ship operators the opportunity to carry a wider range of cargos without worrying about the previous cargo residue contaminating the next one.
Advanced Polymer Coatings
www.ad-polymer.com

Hempel
www.hempel.com

International Paints
www.international-marine.com

Micanti
www.micanti.com

PPG Protective & Marine Coatings
www.ppg.com

Sherwin-Williams
www.sherwin-williams.com
March 17-21, 2013
Orange County Convention Center, Orlando, FL

The 2013 NACE International Corrosion Conference offers technical and educational resources, public awareness activities and exhibition. More than 5,000 corrosion professionals are expected to participate, and the exhibition will feature more than 370 companies displaying the latest in corrosion control products and services. The technical program, with more than 30 symposia, will feature several new offerings, including corrosion mitigation of fire protection systems, corrosion issues related to water systems and the environment and the relationship between coatings and CP.
www.nace.org

(As published in the March 2013 edition of Maritime Reporter & Engineering News - www.marinelink.com)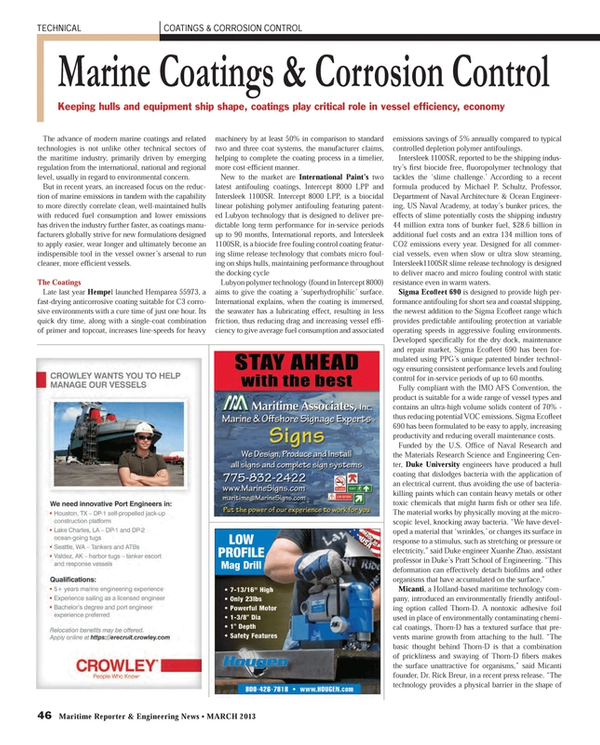 Read Adances in Marine Coatings & Corrosion Control in Pdf, Flash or Html5 edition of March 2013 Maritime Reporter
Other stories from March 2013 issue
Content