Shipbuilding: DDW's Future is Bright
During the past two years Drydocks World (DDW) has suffered from the restraints of a financial problem following the purchase of one shipyard in Singapore and one on the Indonesian island of Batam (both former Pan United shipyards) and two more on Batam (both former Leroy shipyards).
This debt has now been restructured and the management of those yards has been taken over by China's Paxocean, thus leaving DDW is a much better state and looking forward to a better future.
The main yard of DDW is Drydocks World – Dubai (DDW-D), which competes in the shiprepair, conversion and newbuilding industries and, despite the introduction of two additional shipyards in the Middle East, remains the largest and most successful of the Middle East facilities.
During 2013 there will be some changes to the look of DDW-D's yard. It is intended that the newbuilding area will be extended with a specially-designed newbuilding quay alongside the yard, where currently the floating dock is located. The floating dock will be moved to a site in Dubai Maritime City (DMC) and operate alongside another floating dock, which was formerly the Platinum Yachts floating dock located in Jebel Ali. At the end of the newbuilding quay there will be a number of lay-by berths available for jack-up rigs.
On the conversion side of DDW-D's activities, there are currently two major projects coming to fruition. The first is the FLNG Toscana, formerly the LNG tanker Golar Frost, which is now completed as far as the shipyard is concerned. She is currently undergoing owner's commissioning tests prior leaving the Middle East for Italy and installation at a terminal offshore Livorno, Italy. The unit will be owned by OLT Offshore and operated by Saipem. She will eventually leave Dubai during the first quarter of 2013.
This is one of the most sophisticated conversion projects carried out by the shipyard. The scope of work for the shipyard included:
• Detailed Engineering: – complete turret construction methodology worked out by the Yard's engineers so there was no damage to the Inconel cladding of the turret bearings. In addition the 2,000 tonnes re-gasification module T-16 was an engineering challenge to lift and install on-board.
• Procurement: – with restrictions to sourcing the material required for the various grades of piping, mainly Cunifer and Cryo and the stringent MED and 3.2 certification requirements - an on-going challenge.
• Construction: - the project included routine complex work as part of the scope related to topsides such as the fabrication and installation of the 600 tonnes, 25 m high external turret and turret mooring system, installation of the four prototype loading arms weighing 75 tonnes each, and lifting, installing and tie-ins for the 2,100 tonnes re-gasification T-16 and the 400 tonnes T-20 wobbe index modules, installation and tie-ins for the two 10,000 kW STGs and installation of the unique articulated-type vent tower are other significant firsts. In all 97,272 inch-diameter of piping, including exotic material for cryogenic piping and over 320 kms of cable pulling was completed for the project. Extensive piping fabrication work including stainless steel piping for the handling of LNG cargo at -163 degreeC, and insulating with PUF type material was carried out. Major vessel and topside work carried out included chain table replacement for the turret mooring system, side-by-side berthing mooring system installation, modification of cargo pump tower internal structure and installation of retractable cargo pumps, installation of the pipe rack module, product sea water systems piping with diameters up to 132 cm. Total steel tonnage fabricated and installed for vessel conversion was 4,400 tonnes and was compliant with the highest quality standards in the maritime industry.
• Pre-commissioning and assistance to final commissioning: - Final commissioning of the newly-installed HVAC system was completed by the yard and sub-contractors. In addition the yard has provided support to the client for other commissioning work such as the cool-down of cryogenic piping, boiler flash-up, performance trial run of power generators, harbour acceptance test of aft thruster and leak test of the natural gas piping.

All of this work was completed consuming 9.57 million man hours with only three LTIs. It is expected that a total of 9.59 million man hours will be consumed by the time of project completion.
The second project involves two 120,000 dwt tankers, the Eagle Texas and the Eagle Louisiana, owned by Singapore's AET Shipmanagement and being converted by DDW-D to become Modular Capture Vessels (MCVs) for use in emergency oil spills in the Gulf of Mexico.
Both vessels were newbuildings from Japan's Tsuneishi Shipyard. Following the Deepwater Horizon disaster, it was decided by Marine Well Containment Co (MWCC), which is a collaboration of some 10 oil majors, that this concept would be available in times of such emergencies. The MCV would be able, in cases such as the Deepwater Horizon, to capture the oil from the seabed area thus preventing the kind of environmental disaster seen two years ago.
Some of the modules for this concept will be placed on-board in Dubai with more awaiting the ships' arrival in the Gulf of Mexico. Both tankers will operate as normal lightening vessels in the Gulf of Mexico with the modules being made available to load on-board immediately when an oil spill disaster is apparent. These are the first ships to be used in this type of concept, and DDW-D are expecting that more will follow, not just for the Gulf of Mexico, but for others areas worldwide. DDW-D has carried out some 27 conversion projects over recent years including all such projects for Italy's Saipem and Norway's Fred Olsen.
DDW has also been involved in the initial stages of the refit of the famous Cunard liner Queen Elizabeth 2 (QE2). It has been tied up in Port Rashid, Dubai for the past number of years (since November 2008) while her fate has been decided. She is now in DDW-D for undertaking classification checks prior to her renovation as a luxury floating hotel. No shipyard has yet been named to carry out the renovation work.
She was built by John Brown & Co. (Clydebank) and delivered in 1969 as a 70,327 tons passenger liner for the transatlantic trade, before becoming a worldwide cruise vessel. She carried 2.5m passengers, sailed nearly 6m miles and completed 806 trans-Atlantic crossings during 39 years of service for Cunard. She also saw active service as a troop carrier during the 1982 Falklands War. She was originally built at a steam-powered vessel, changing to diesel-electric power (using nine MAN diesels) during 1986/7 at Germany's Lloyd Werft, Bremerhaven. A service speed of 32 knots was achieved after the re-engining operation, which cost some £100m.
QE2 Dubai has created a large consortium to convert the QE2 into a five-star hotel with 500 rooms managed by a prestigious international hotel as an operator. The Oceanic Group, a group of deeply-experienced advisers to cruise operators and managers in Asia, will take the lead in managing this project while DDW-D will carry out extensive technical and operational checks prior to her move into Asia..
The vision for the QE2 is for her to become a landmark cultural and tourist attraction-a beacon of luxury, glamour, quality and tradition - in the heart of a leading Asian city that shares her rich maritime heritage and is prepared to give this very special ship the prominent waterfront home she so richly deserves. The consortium will lavish many millions of dollars on this magnificent ship to restore her to the splendour of her glory days as an icon of the very best the world has to offer.
A number of Asian cities have expressed interest in securing this historic attraction. An international tourist city in the Far East is to be her first destination. Plans for the upgrading of the QE2 also include a shopping mall with the finest world leading brands, a QE2 Café offering meals similar to those served during cruises, three Michelin-starred restaurants, convention and meeting facilities. There will also be an on-board maritime museum displaying QE2 memorabilia and her rich history, along with a collection of treasures of Dubai.
On the newbuilding side of DDW-D's activities, there are three projects currently underway. The yard is building the Prelude FLNG turret for installation into a FLNG currently being constructed by South Korea's Samsung Heavy Industries (SHI). This is a joint venture between Shell, SBM (Offshore) and Technip, and will be the first such project ever carried out. The turret will be delivered to South Korea in three phases starting in July 2014.
The second newbuilding is Aibel's semi-submersible High Voltage Direct Current (HVDC) platform building Dolwin Beta for ABB to be used to convert turbine electricity to direct current in the North Sea wind farm industry. The unit is due for delivery in early 2014.
The third newbuilding project is a 400,000 bbls sub-sea storage tank for Premier Oil (UK). The structure will be located on the Solan Field in the UK sector of the North Sea and operated by Chrysaor.
(As published in the March 2013 edition of Maritime Reporter & Engineering News - www.marinelink.com)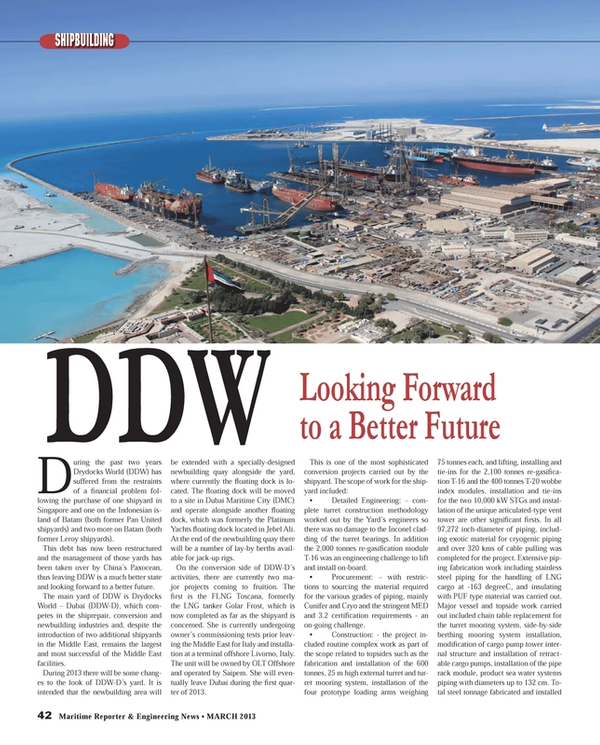 Read Shipbuilding: DDW's Future is Bright in Pdf, Flash or Html5 edition of March 2013 Maritime Reporter
Other stories from March 2013 issue
Content