Classic Design with Tomas Tillberg
By Greg Trauthwein, Editor
Cruise ship and passenger vessel design are unique in the maritime world, evolving with time and style, demanding efficient power and safety for these cities at sea. Tomas Tillberg of Tillberg Design International is a renowned "go to" source for perspective and insight in this regard.

For those not familiar, can you kindly give an overview of how you found your way in to cruise and passenger vessel design?

I grew up with design being discussed at home and helped in the office very early on, visiting clients together with my father and helping in other ways. I went to the Royal Academy of Fine Arts in Stockholm and while a student there I did an early job on a vessel that later became one of the "Love Boats" for Princess Cruises. I joined my father some time later and we started working together. We expanded the office with my work in the U.S. which lead to the establishment of our office in Fort Lauderdale.

How would you best describe your overall design style and tastes?

Every project has to do with the clients branding. It's not so much a question of our firm's style as one might think at first, but it's always about the clients expectations, their branding, re-branding, which direction they would like to go and so on. We are very attentive to those aspects so that we can give them their proper expression and thus materialize the client's intentions as they relate to each project. Our attitude is that a professional in the field of arts can create any number of different styles which gives a lot of freedom to us as designers as well as the client. In this way any dreams can be realized.


While you obviously have your own design style and tastes, your job is difficult in that you must rectify your thoughts with those of your client's as well as what is physically possible on a ship. What is your advice to get this done as efficiently as possible?

Having associates with years of experience in the field and the best resources available is a key factor and, as I mentioned above, understanding the client's needs and the guests' expectations is paramount and often even the ship's itinerary is to be considered. There are always financial considerations to have in mind as well, and we strive to maximize the designs within that framework.


Design obviously evolves: what do you see as the most significant evolution in cruise ship design, and why?

The most obvious evolution is the many choices a guest has today. We see this for example in the dining venues, where it used to be that you had to decide on early or late dining in the one dining room, as the only choice. Now there are perhaps six or more options to choose from, at least. Another evolution in design, that started some time ago, but that we see clearly now, is the boutique hotel look which is a more intimate design style reflecting what one would find on land. Also the sophistication and diversity in entertainment onboard and the great variety in attractions are continuously evolving.


When you look at the cruise and passenger vessel market, what do you see as the most significant evolution in cruise ship design, and why?

The current focus is toward cleaner, more contemporary, timeless designs as can be seen in the hospitality trends today.


Ships in general – cruise ships in particular – continue to grow bigger with ever complex amenities and entertainment. I have heard suggestions that ships are getting too big, outgrowing safety systems and the ability to evacuate safely in an emergency. What are your thoughts on the subject.

Despite the size the ships are safer than ever. As past experience is implemented the regulatory requirements become stricter. Safety is always at the forefront of cruise ship designs, from the owner, the shipyards and also from us as designers. The evolution of new technology and materials is creating not only a vast array of possibilities for designs, but also has increased the safety onboard. It's just amazing how stable and comfortable the larger ships are.


What is the one project that you have completed that you are most proud of?

It's hard to single out any one project as we take pride in all our endeavours. Every project for us is special whether large or small. The client's satisfaction with our work is "the proof of the pudding" and we are happy to say that we collaborate with many wonderful clients in the cruise industry.


What, or who, do you count as the biggest influence on your design, and why?

Robert Tillberg, my father, and his style of being careful to listen and not only having certainty as a designer but also being practical and considerate of everyone he associated with. He was very secure in his knowledge of design which allowed him to encourage others to develop their creativity.


When your career is done and you look back on your body of work, how would you like to be remembered?

Well, Robert retired when he was 85, so I probably still have a few years to contemplate the answer to that question!
However, when I look at the list of stellar clients and the amazing body of work that our firm has created and all the talented and dedicated designers that I have been privileged to work with, I realize that I have been very fortunate. My wish would be that through their creativity and dedication the Tillberg name will be respected long into the future.
(As published in the October 2014 edition of Maritime Reporter & Engineering News - http://magazines.marinelink.com/Magazines/MaritimeReporter)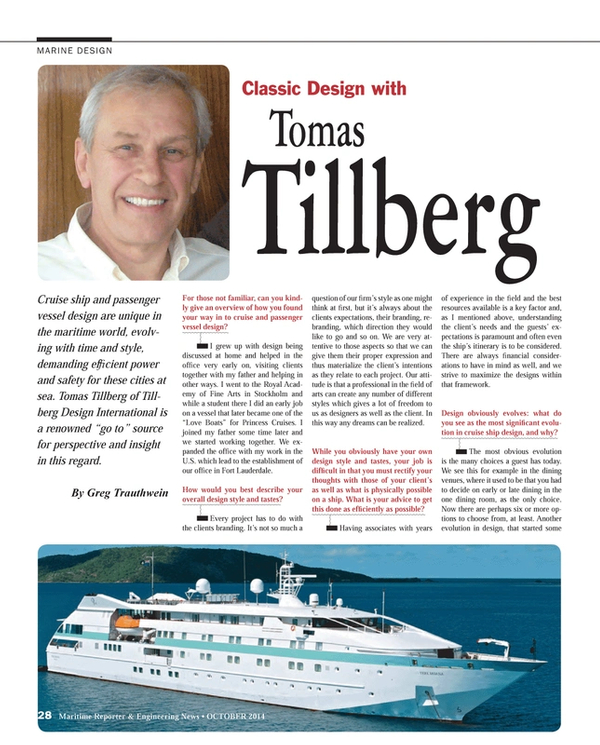 Read Classic Design with Tomas Tillberg in Pdf, Flash or Html5 edition of October 2014 Maritime Reporter
Other stories from October 2014 issue
Content